Dave Hakstol calls Tyler Myers hit that injured Matty Beniers "garbage"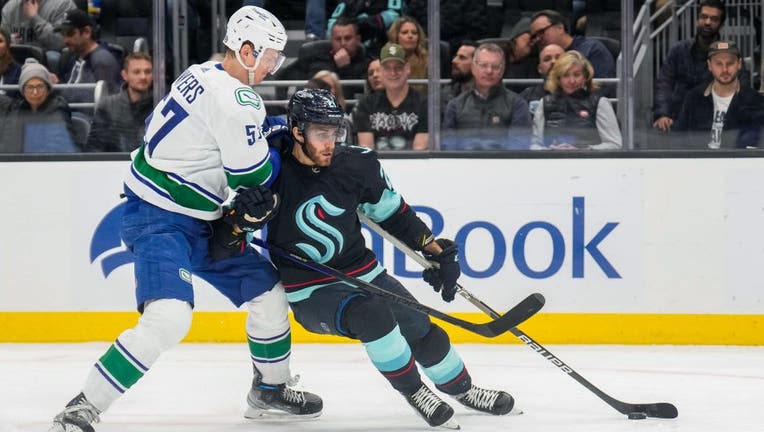 article
Seattle Kraken head coach Dave Hakstol isn't fond of the hit from Vancouver Canucks defenseman Tyler Myers that injured rookie center Matty Beniers on Wednesday night.
"I thought the hit on Matty was garbage. Didn't like it at all," Hakstol said in an interview with 93.3 KJR-FM on Thursday evening.
Myers blindsided Beniers from behind just over five minutes into the second period. Beniers was looking at teammate Jamie Oleksiak, who controlled the puck near the blue line. Beniers appeared to have his head bounce on the ice as Myers' check drew an interference penalty. It's illegal to hit a player in the position Beniers was in if he's not in control of the puck.
Beniers slowly retreated to the bench as he felt the effects of the hit. He would play three more shifts through the remainder of the second period for Seattle but did not return for the third period.
"I don't know the answer to that," Hakstol said of Beniers' potential availability for Friday's game against the Calgary Flames. "We'll have an update for you probably as we get to game day."
The Kraken used the power play that came from Myers' hit to make it a 3-0 game on a goal from Jared McCann. But right off the following face-off, Oleksiak and Vancouver's Luke Schenn dropped the gloves for a fight as Oleksiak stood up for his downed teammate.
"Love what Rig did," Hakstol said, referencing Oleksiak's 'Big Rig' nickname. "… He did what he needed to do right away.
"Those are two tough guys, man. I've got a lot of respect for anybody that's been in that situation. Got a lot of respect for both those guys. I've known Luke for a long time and the respect that I have for Rig, that's two big, tough guys going at it nose-to-nose. Rig did a great job for us."
Beniers has played in all 47 games this season for the Kraken in his first full season with the team. He leads all rookies in goals (17) and points (36) and was named to represent the Kraken at the upcoming All-Star game in Florida next week.
Assuming the rest of the Kraken's roster from Wednesday night's win over Vancouver is healthy and available, Seattle wouldn't need an additional call-up from Coachella Valley if Beniers isn't able to play. John Hayden can play center and was a healthy scratch for the win over the Canucks. 
However, André Burakovsky, Yanni Gourde, Alex Wennberg and Jaden Schwartz have all been nicked up recently as well.
The Kraken have two more games before the All-Star break in Friday's game against Calgary and Saturday's first meeting of the year with the Columbus Blue Jackets.
"There's different stuff that's going to happen during a hockey game once the score gets stretched out," Hakstol said. "That's something that our group is going to be comfortable with and that's all part of it."