CenturyLink High School Athlete of the Week: Willow López-Silvers of Curtis HS
Willow López-Silvers, a senior at Curtis High School, was selected Athlete of the Week based on her dedication to academics, community involvement, leadership, and athletic performance. Willow maintains a 3.75 GPA while taking Advanced Placement courses and is a member of the National Honor Society. Willow is a mentor at Curtis Junior High where she helps students develop good academic habit and she was selected as the 2015 "Link Crew" orientation leader to help incoming students prepare for high school. Willow has volunteered with Nativity House, a homeless shelter in Tacoma, where she has served meals to residents since 2011. Willow was voted MVP of her swim team in 2014 and 2015. She was the 2015 WIAA 4A State Champion in the 100 Freestyle and the 2015 Tacoma Athletic Commission Athlete of the Year for Swimming and Diving. This fall, Willow led Curtis to their first District Championship in almost 20 years and had multiple top finishes in the 2016 WIAA State Swim & Dive Tournament. Willow's hard work, determination, and positive attitude inspires all 60 of her teammates to work their hardest and strive to be their best.


---


The Seattle Seahawks, CenturyLink and Q13 FOX are honoring Washington state high school student athletes that display excellence both on and off the field during the 2016 fall sports season.

Coaches, teachers, parents, peers and community members can nominate outstanding fall student athletes based on the student's dedication to academics, community involvement, leadership, reliability and weekly athletic performance.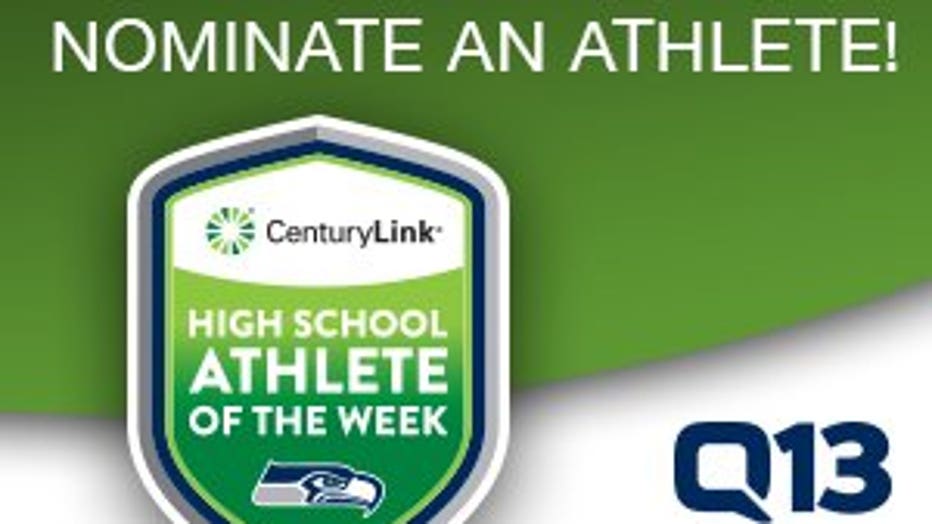 Every student athlete will be recognized at his/her school and at a Seahawks game. Each winner will also receive a $1,000 grant to their school's  from CenturyLink and the Seahawks -- plus a personalized 2016 Nike Seahawks jersey, a custom football, sideline passes to a home game and more!

"CenturyLink is honored to partner with the Seattle Seahawks and Q13 FOX on this great program," said Sue Anderson, CenturyLink's Vice President of Operations for Seattle.  "We believe in developing the potential of area student athletes and supporting their efforts in the community, both on and off the field."

Each week, CenturyLink executives and Seahawks personnel will select a nominated student who meets or exceeds the criteria.