CenturyLink High School Athlete of the Week: Geneva Schlepp of Skyline H.S.
Geneva Schlepp, a junior at Skyline High School, was selected Athlete of the Week based on her dedication to academics, community involvement, leadership, and athletic performance. Geneva holds a 4.0 GPA while taking honors classes and aspires to study environmental engineering in college. Geneva was inspired by a Free the Children sponsored assembly to lead an initiative that raised over $9,000 and collected hundreds of pounds of food to help build a school and benefit the children of Rajasthan, India. She is also involved with the Pacific Northwest Section of the American Water Works Association and raised over $6,000 for clean water initiatives by running over 60 miles during a two-week period. Geneva is captain of her Cross Country team and achieved All-American status in Cross Country as well as Track. She has been inspired through athletics to bring attention to pertinent world concerns and help affect positive change, and motivates her teammates to join her in serving their community.


---


The Seattle Seahawks, CenturyLink and Q13 FOX are honoring Washington state high school student athletes that display excellence both on and off the field during the 2016 fall sports season.

Coaches, teachers, parents, peers and community members can nominate outstanding fall student athletes based on the student's dedication to academics, community involvement, leadership, reliability and weekly athletic performance.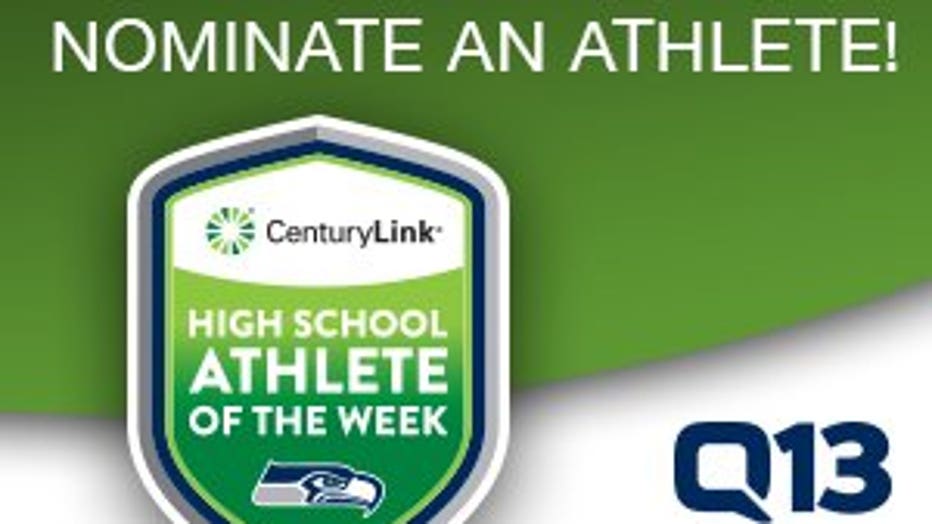 Every student athlete will be recognized at his/her school and at a Seahawks game. Each winner will also receive a $1,000 grant to their school's  from CenturyLink and the Seahawks -- plus a personalized 2016 Nike Seahawks jersey, a custom football, sideline passes to a home game and more!

"CenturyLink is honored to partner with the Seattle Seahawks and Q13 FOX on this great program," said Sue Anderson, CenturyLink's Vice President of Operations for Seattle.  "We believe in developing the potential of area student athletes and supporting their efforts in the community, both on and off the field."

Each week, CenturyLink executives and Seahawks personnel will select a nominated student who meets or exceeds the criteria.