Carroll asks fans to 'give the guy a break' after Earl Thomas' obscene gesture


RENTON, Wash. – Pete Carroll said Monday that he hopes Seattle Seahawks fans will cut Earl Thomas some slack for the obscene gesture he made on his way off the field after breaking his leg during Sunday's win over the Arizona Cardinals.

"I get it when people want to try to pass judgement and cast aspersions and all that or something, but in the heat of the moment, with all the emotional part of this, and the injury and the pain and all of that … shoot, I mean, give the guy a break," Carroll said.

Thomas broke his leg in the fourth quarter of the 20-17 win, a tibia fracture that Carroll said was "almost in the same area" where the free safety broke the same leg two years ago. On the way off the field, Thomas made flipped the bird in the vicinity of the Seahawks' sideline, though it was difficult to tell if it was aimed at the sideline, the stands above, or the world in general.

"I don't know exactly what the intention of that was," Carroll said. "I didn't see it. I don't know what the intention was there and I'm not jumping to conclusions on it. There's nothing for us to talk about at this point."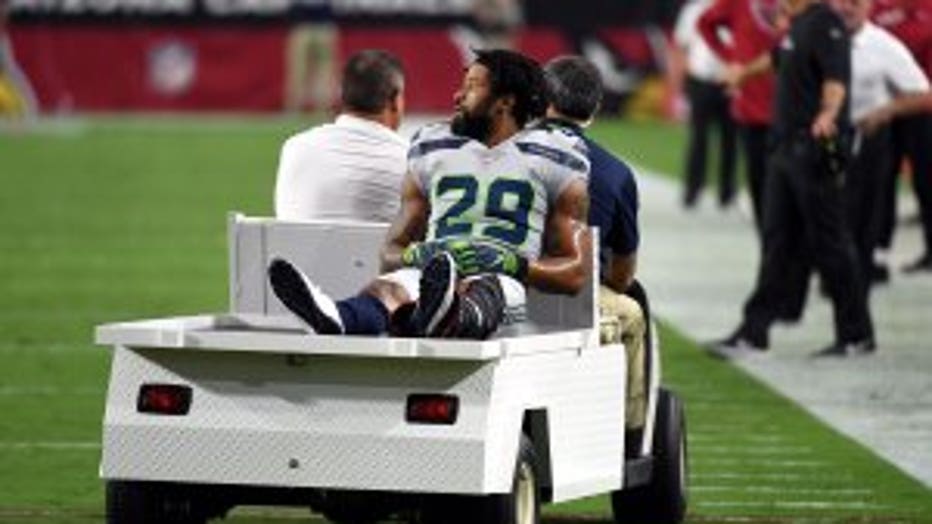 GLENDALE, AZ - SEPTEMBER 30: Defensive back Earl Thomas #29 of the Seattle Seahawks leaves the field on a cart after being injured during the fourth quarter against the Arizona Cardinals at State Farm Stadium on September 30, 2018 in Glendale, Arizon


Carroll said Thomas suffered a clean break and has the option of surgery, but hasn't yet decided what to do. Last time, he opted not to get surgery and it took 2-3 months to heal. Tyler Lockett, who also suffered a similar break two years ago, did opt for surgery.

"Under the circumstances, to handle what just happened in the flash of a moment with all of the knowledge that he knew where he was going … he knew exactly what the injury was, he knew exactly – I'm sure it flashed in his mind 'it's gonna take this long' … all of the stuff that's going through his head," Carroll said. "You've got to give everybody a break. You can have expectations for people to do exactly as you think they should do. But until you're there doing it and you understand it – yeah, you've gotta give guys some room. That's exactly how I feel about it. I know that probably some of our other players who have been in that situation understand it."

The injury was a clear distillation of both Thomas' and the team's point of view over the past months as he entered the final year of his contract. Thomas held out from training camp and had been vocal about his desire to either have his contract extended or be traded to a team that would do so. NFL teams, however, are nervous about signing a player to a large contract who could suffer an injury and affect their salary camp going forward – a  situation they just went through with strong safety Kam Chancellor.

A reporter asked Carroll if he thinks the NFL and players' union should address guaranteed contracts when the current collective bargaining agreement tends after the 2020 season.

"I would hope that's in consideration," Carroll said. "A lot of other sports understand that and our sport is the most difficult to stay healthy and stay part of it. I wish that there was more consideration in their conversations about that for sure."

The Seahawks will turn to Tedric Thompson to step in as free safety, with Carroll saying he was "excited about Tedric's play" but not putting pressure on him to be another Thomas.

In other injury news:


Seattle will play host to the Los Angeles Rams at 1:25 p.m. Sunday in a game that will be televised on the official home of the Seahawks, Q13 FOX.