Auston Matthews scores twice as Kraken smacked 5-1 by Maple Leafs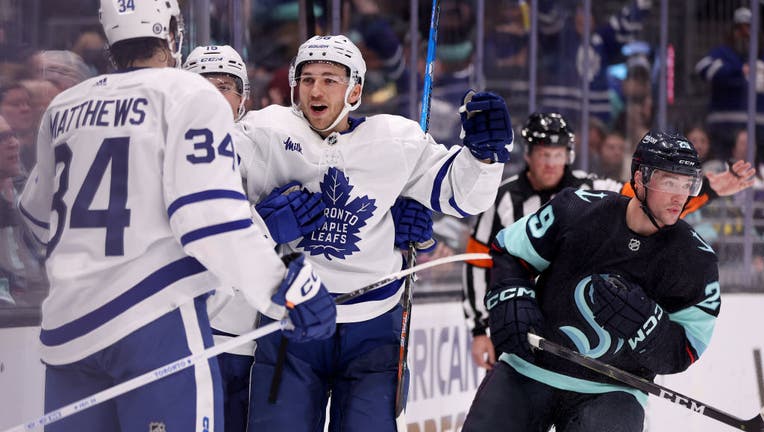 article
SEATTLE - Reigning Hart Trophy winner Auston Matthews scored a pair of goals, Mitch Marner had three assists, and the Seattle Kraken were dominated in a 5-1 loss to the Toronto Maple Leafs on Sunday afternoon.
The Kraken have now won just three games since the All-Star break and have fallen to the bottom of the playoff picture as their rocky play continued Sunday afternoon. Philipp Grubauer was pulled after allowing four goals on 16 shots in just over 24 minutes of play. Grubauer was hung out to dry on several of the goals with the Maple Leafs controlling play in front of the Seattle net.
"Little things that are killing us right now," Vince Dunn said. "Battles, puck management, blocking shots, not giving up second chances. Our goalies are actually playing pretty well for us. It's unacceptable for Grubi there... there's not much you can do on many of those goals."
It's the first time since December 31 that the Kraken have been below .600 in points percentage in the standings. Seattle then went on an eight-game winning streak that put them at the top of the Pacific Division at the All-Star break. The Kraken have just one win against a team with a .500 record since the break. A 4-2 win over the Detroit Red Wings is the only positive result in that regard along with two wins over the struggling Philadelphia Flyers.
"We've battled hard," head coach Dave Hakstol said. "You have to be really careful to make sure that a night like tonight doesn't knock your perspective out of kilter. Our group is in a good spot. We know where we're at. We know what the fight is ahead. You know, the results have to be a little bit better than what we've had over the last couple of weeks. And that's where our focus needs to be as we go on the road starting in St. Louis.
"I think a lot of us are maybe being a little too hard on ourselves, clenching our stick when we have the puck. The plays are there to be made we just kind of make them," Dunn said.
Toronto beat the Kraken with their net front presence through the first 25 minutes of the game. The Maple Leafs outmuscled Seattle with their positioning and created screens and traffic for goaltender Philipp Grubauer. Shots from the outside created prime scoring chances on rebounds off bodies in front of the net and the Maple Leafs capitalized on the opportunities.
"Those are details, whether it's them getting behind us and creating second chances for opportunities or, you know, finding ways to tip pucks to our net and us not tying up sticks, those are things that costs you goals, costs you playoff games, costs you series. So details that the end of the day come down to winning or losing," Jordan Eberle said.
Seattle actually was the team to strike first before the ice tilted heavily in the Maple Leafs' favor. Jared McCann corralled a Toronto clearance attempt near the blue line to maintain possession. Jordan Eberle fed Vince Dunn and he beat Ilya Samsonov to give the Kraken an early 1-0 lead.
Former Kraken team captain Mark Giordano tied the game at 1-1 just over a minute later as a shot through traffic worked through the legs of Grubauer and into the back of the net.
A point shot from Justin Holl deflected off William Nylander and landed on the stick of John Tavares on the backdoor for an easy shovel into the net to give Toronto the lead. Timothy Liljegren was then left unattended on the backside as Mitch Marner found him from behind the net to make it a 3-1 Toronto lead at the end of the first period.
"The response to the first goal against wasn't good enough against a team with really good ability," Hakstol said. "Our energy and the start of our hockey game was good. But as I said, you know, we have to have a better response. We've got to be stiffer. You know a tough goal goes in, we've got to be stiffer in not just the next few shifts but the rest of the period."
Matthews then added the first of his two goals on the day to chase Grubauer just under five minutes into the second period. He swatted a puck out of the air after a strong forecheck from Marner and Michael Bunting created a scoring opportunity.
Martin Jones replaced Grubauer in net for the rest of the contest as Seattle was unable to find the scoreboard again.
"We're at the time of year where we know we need to have some saves in tough situations," Hakstol said. "The first one obviously we didn't like but, you know, (Grubauer) fought hard on some of those scrums that we talked about, but when the fourth one went in we needed to make a change. We needed to try to push back at that point in time. And obviously we didn't dig out."
Oliver Bjorkstrand had a trio of prime opportunities. Seattle created their own rebound chances throughout the second period and early third that were unable to be converted. A strong power play effort created numerous looks that also did not find the back of the net.
"This team is very, very dangerous on the rush and I thought our defense on the rush tonight was excellent. Took away that threat," Maple Leafs head coach Sheldon Keefe said.
Matthews and Marner connected again with 7:29 left to play on a terrifically executed 3-on-2 opportunity to make it a 5-1 game. For Matthews, it was his 27th and 28th goals of the year. Marner has 54 assists on the year, which is top five in the NHL.
Samsonov made 26 saves in the victory for Toronto. Jones made 11 saves on 12 shots in relief of Grubauer.
"I think if you were to look at it this summer, I think we would have taken this. We have 23 games left and all meaningful. So we control our own destiny," Eberle said of the position the Kraken are in. "It's about getting back on a roll. I mean, this the bottom line of it, you know, we're going to have play good teams, we're going to play teams where we expect to win. But the end of the day, we just got to find a way to get back to our game. I think for the most part, other than the 15 minutes (in the first period), I mean, there was moments tonight where we had sustained pressure, but It's got to be full 60, especially against a team like that."