André Burakovsky nets OT winner as Kraken beat Devils 4-3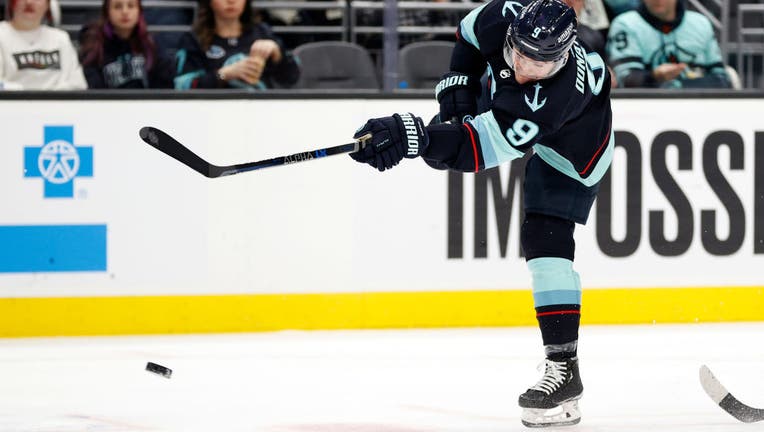 article
SEATTLE - André Burakovsky's overtime goal lifted the Seattle Kraken to a 4-3 victory over the New Jersey Devils that moved them into first place in the NHL's Pacific Division and matched their win total from their inaugural season after just 45 games.
Nico Hischier tied the game at 3-3 with 1:14 left to play with an extra attacker on and an empty net for New Jersey to force the extra period. Hischier then hit the post in overtime off a great pass from Jack Hughes game the Devils a prime winning chance.
Instead, Burakovsky was the one to find the game-winner for Seattle.
"I think I was just lucky," Burakovsky said. "I don't know who it was, (Jesper) Bratt maybe, it hit his stick and went five -hole. I mean, that's not really what I was trying to do but it worked out."
With the Vegas Golden Knights falling 3-2 to the Detroit Red Wings, the Kraken drew even with Vegas in the division standings with 58 points. However, Seattle currently holds the edge over the Golden Knights in points percentage having a game in hand on their recent expansion rivals.
"Sounds really good," Burakovsky said of reaching first place. "That's one of our goals, I think. I mean we want to win as many games as possible and it's been a good year for us so far and we're just gonna have to continue on the same path."
Ryan Donato sniped a pair of goals past goaltender Mackenize Blackwood and added an assist on Brandon Tanev's third period goal as well. The goals were mirror images of each other. Donato found clean looks on net from the right circle as he beat the Devils' goalie with snap wrist shots over Blackwood's glove shoulder to give Seattle a 2-0 lead. 
"At that point, I'm in a spot where there's not much of an angle for me to shoot," Donato said. "I just tried to get it to the net as quick as I can. And that one was pretty lucky. The second one was definitely looking more short side. Originally thought I was going to be able to pass, but they back-checked very hard and I just got it off in time."
It's the fifth multi-goal game of Donato's career and third with Seattle. It's also just the second three-point game of his career, matching a 2018 game for the Boston Bruins against the Columbus Blue Jackets (one goal, two assists). Will Borgen picked up the assist on the first goal while Jared McCann and Cale Fleury picked up the assists on the second effort.
For Fleury, it was his first career assist and first point as a member of the Kraken. His only other point of his career was a goal scored against the Devils with the Montreal Canadiens in 2019.
"I knew it was both against these guys. So I guess they're my favorite team play against," Fleury said.
Due to the Kraken being pretty healthy all season, Fleury has only played in six games this year for Seattle. His last appearance came over a month ago against the Carolina Hurricanes on December 15. Fleury was in the lineup in place of an injured Justin Schultz on Thursday night.
"I don't know exactly how many days it is, but it's four or five weeks. It's a long time. But, you know, he came in tonight and it was pretty seamless. He did a good job. He looked confident right away," head coach Dave Hakstol said. "… That probably tells everybody the amount of work that he's done over the past few weeks to stay ready."
New Jersey clawed one back midway through the second period. A Kraken turnover in the neutral zone led to a clean attempt from Severson that beat Martin Jones high stick side to make it a 2-1 game. The shot benefited from a screen from defenseman Vince Dunn that impeded Jones' vision.
"We didn't take care of a puck against this team," Hakstol said. "… You don't take care of pucks, if you feed their transition, they can be dangerous. And that's the Severson goal. So all of a sudden it's a 2-1 game and now it's a horse race all the way through."
Miles Wood clanged a shot off the crossbar in the third period and threw his hands up thinking he'd scored the tying goal. Instead, Morgan Geekie and Tanev found themselves in a two-on-one break that Tanev was unable to finish. Daniel Sprong then caught a high-stick from Brendan Smith that gave Seattle their only power play chance of the night.
However, the Kraken struggled to gain the offensive zone and Erik Haula got a breakaway attempt short-handed and beat Jones with a backhanded finish for the tying effort. Haula got behind Vince Dunn as he tried to knock the puck out of the air to get the breakaway chance.
It took just two minutes for Seattle to jump back out front. Yanni Gourde retrieved the puck behind the New Jersey net on a dump in from Dunn and found Donato out front, Donato's backhand feed to Tanev left a wide open net as the Kraken made it 3-2 with 12:09 left to play.
"It doesn't have to be a highlight reel (play)," Hakstol said of Gourde's play on the wall. "At this time of year, it's work it's grinding, it's a little bit in the trenches. And that for me, you know, Gourdo's line has been drivers for us over the past couple of weeks."
The Devils pulled Blackwood with 2:28 left to play and they began to pepper shots on Jones looking for the equalizer. Hischier and Hughes got shots on net with three more Devils missing the net on shot attempts. Hischier collected the rebound on Hughes' shot and flipped it over Jones into the roof of the net to send the game to overtime.
Jones made 27 saves on 30 shot attempts for the Kraken. Blackwood stopped 36 of 40 shot attempts for New Jersey. The 40 shots on goal are the third-highest mark this season for Seattle.
"We got a good opportunity and that one had eyes, right?" Hakstol said. "Blackwood was good all night. But good things happen when you shoot the puck. Burky drove to an area where he had an opportunity to get it on net and he did that and it found a hole."
Vince Dunn got the assist on Burakovsky's game-winning goal, which extends his point streak to nine games.