Aaron Rodgers: 'I don't think God cares' who wins football games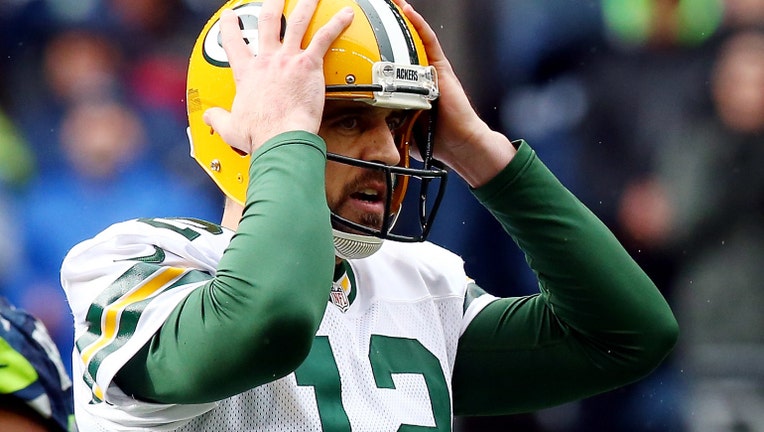 GREEN BAY, Wisc. -- Green Bay Packers quarterback Aaron Rodgers said he doesn't think God cares about the outcomes of football games, the LA Times reported.

Rodgers was responding to listener questions Tuesday on a weekly radio show with ESPN Wisconsin. The question comes after the Seahawks beat the odds and overcame a 16 - 0 first-half deficit and beat the Packers 28 - 22 in overtime Sunday.

The quarterback was asked if such a big loss shakes his faith since athletes often thank God for their successes.

According to SI.com, radio host Jason Wilde read the following question:

" says, 'I always find it a little off-putting when athletes, actors and anybody says, "This is what God wanted," or "I want to thank God for helping us win today," anything along those lines when a game or award is won. I'm paraphrasing here, but you get the gist. Personally, with all the chaos in the world, I'm not sure God really cares about the outcome of a game or an awards show. What do you think of statements such as these? You've obviously got your faith. Does what happens on Sunday impact your relationship with God or your faith at all?""

Rodgers' response:

"I agree with her. I don't think God cares a whole lot about the outcome. He cares about the people involved, but I don't think he's a big football fan."

Seahawks QB Russell Wilson told reporter Peter King that a divine influence made Sunday's NFC Championship so exciting.

"That's God setting it up, to make it so dramatic, so rewarding, so special," Wilson reportedly told King. "I've been through a lot in life, and had some ups and downs. It's what's led me to this day."

Rodgers has previously said he is religious.

"I just try to follow Jesus' example, leading by example," Rodgers said before Super Bowl XLV.

The Seahawks play the New England Patriots in Super Bowl XLIX on Feb. 1.

NEXT:  How little could you REALLY spend and still make it to the Super Bowl?