5 things to watch for in Seahawks vs. Chargers matchup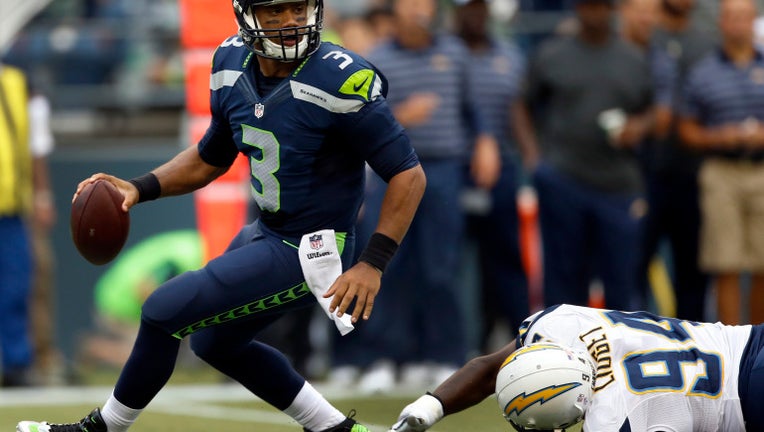 SAN DIEGO -- It's hard for most teams to call any game flawless, or expertly executed.

But this is the Seahawks we're talking about.

Seattle's 36-16 win over Green Bay in Week 1 of the regular season showed the a lot was right for the Hawks, and little wrong.

Marshawn Lynch rushed for over 100 yards on the back of a strong, resilient offensive line. Russell Wilson was consistent and reliable, going 19-for-28 and 191 yards with two touchdowns and no interceptions. Percy Harvin finally looked as fast as advertised, forever drawing the defense's attention, and catching seven tosses for 59 yards.

And the defense... well, the defense looked again like the number one defense in the league. It held Aaron Rodgers -- one of the best quarterbacks in the game -- to a pedestrian 189 yards of passing, with one touchdown and one interception.

Of course, the Seahawks can't rest on their laurels. This week they face the acclaimed -- if not always skillful -- Phillip Rivers. Will the Hawks defense be able to stifle another pocket passer, much like they did in Super Bowl XLVIII? Or will something change, drift away, with the Hawks left twiddling their thumbs in the warm air of Southern California?

Likely not. But we'll see Sunday.

Coverage for Sunday's Seahawks vs. Chargers game starts at 12:30 p.m. on Q13 FOX.

5 things to watch for in Chargers vs. Seahawks matchup

5. The Chargers' center-- Last week, the Green Bay Packers started rookie center Corey Linsley. This week, the Chargers will start a backup center, with Rich Ohrnberger starting in lieu of injured Nick Hardwick. But Ohrnberger is anything but untested, as the team has said the 6-2, 300-pound Ohrnberger is capable of the job, as he started 15 games in the regular season last year.  But he hasn't faced the Seahawks defensive line recently. Should we pray for him, Bruce Irvin?

4. The Hawks first regular season game on the road -- The Seahawks went 6-2 last season on the road, largely silencing pundits' question of whether or not the Hawks could win away from the noise of CenturyLink Field. But that was last year. Will the Hawks live up to the old adage that "If you want to make the playoffs, you have to win on the road?" And furthermore, will the 12s -- one of the best traveling fan bases in all of sports -- come out en force in sunny San Diego?

3. Bryan Walters catching punts -- While other teams discussed who the starting quarterback would be, or who would bring the defense from middling to powerful, Seattle sports media spent all offseason discussing which Seahawks player would stand back and catch punts. If anything, that's a clear sign of  the embarrassment of riches here in Seattle. But it's also interesting.

Pete Carroll announced Wednesday that after two shaky attempts, Safety Earl Thomas would no longer stand back to catch those fourth down kicks. Instead, Carroll would give Bryan Walters a chance. Walters showed some flash this preseason, but also fumbled a return in the final game. Lets see how he handles that pressure and the San Diego sun.

2. Phillip Rivers -- Ahh, Phillip Rivers. Most sports personalities love the guy, and he's often called one of the most underrated quarterbacks in the NFL. Will the Seahawks crushing defense -- ranked first in the last season -- be able to hold back this pocket passer, much like they did against Peyton Manning last year in Super Bowl XLVIII. Or, will Rivers find holes in the defense, pass Sherman's way, and be buoyed by a strong running game?

Rivers' take -- He's not scared, especially of Sherman.

"Sherman is a great corner," Rivers told Profootballtalk.com. "But at the same time, I think you have to be smart... our approach is not going to be to completely eliminate and not throw over there any."

1. Cornerback Marcus Burley -- Marcus Burley is the Seahawks newest addition to the Legion of Boom secondary. But is he Boom worthy? Sunday's game against the Chargers will be Burley's biggest test, as he fills in at nickel corner for injured Jermey Lane, who is out on IR with a groin issue. Burley, a second-year corner acquired from the Colts in the last week of August, could have his work cut out for him against Rivers' strong arm. Is he up to the challenge? And can Earl Thomas, Kam Chancellor and the rest of the Legion step up to support?

Coverage of Sunday's Seahawks vs. Chargers game starts at 12:30 p.m. Sunday on Q13 FOX