5 things to watch for in Chargers vs. Seahawks game
SEATTLE -- Alright, 12s. How you feeling?

Have you run to the hills, convinced the Seahawks season is gone before it even really began?

Or, did you yawn heavily Thursday, certain preseason games mean nothing -- absolutely nothing -- and the Broncos 21-16 win over the Hawks was an aberration, a blip in the space time continuum of Seahawks dominance?

Maybe you're a little of both?

Regardless of what side you lean toward, Friday's Seahawks vs. Chargers preseason game at 7 p.m. at CenturyLink Field should hold some interest. Will the Hawks bounce back from their first loss in 10 preseason games, a streak dating back to the a Aug. 27, 2011 loss to the Denver Broncos (dun-dun-dunnnn)? Will the Hawks start winning again, looking hot as Russell Wilson's hair to enter the season? Or perhaps lose, sending those doubters and worry-warts into a catatonic spiral, only to be lifted by another Super Bowl victory?

Guess we'll know Friday. In the meanwhile, here's a list of five things to watch for in Friday's game.

Coverage for the game starts at 4 p.m. on Q13 FOX News.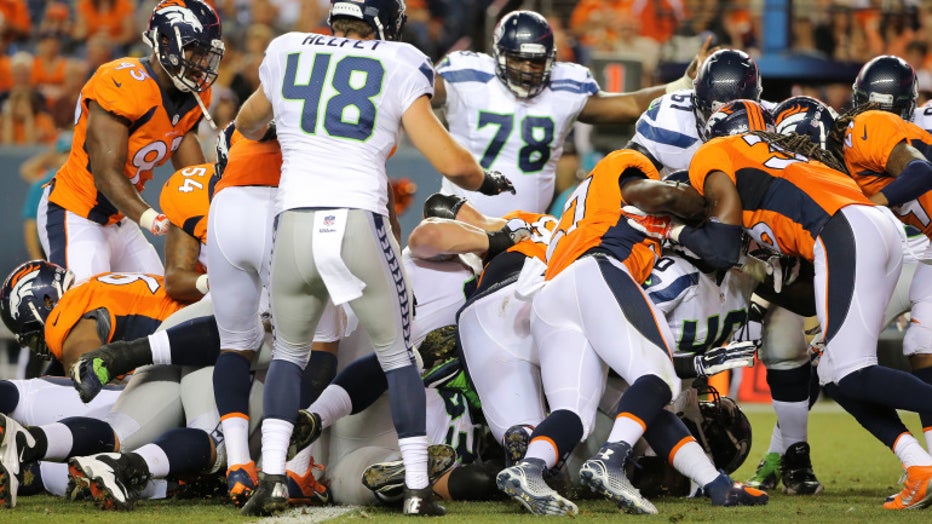 Running back Christine Michael #33 of the Seattle Seahawks is pushed over the line for a 1-yard touchdown against the Denver Broncos during preseason action at Sports Authority Field at Mile High on August 7, 2014 in Denver, Colorado. (Photo by Doug


Five Things to Watch for in the Chargers vs. Seahawks Game 

5. Penalties --  25 penalties were called in the Seahawks first preseason game. 25. Eight were called in the First Quarter.  13 went against the Seahawks for 131 yards.

Though there's an increased emphasis on defensive backfield penalties -- something that could have a stunning affect on the physical Legion of Boom -- most of the Hawks' penalties were old-school, hinting at sloppy play from the defending world champs.  Look for Carroll and the coaching staff to come down harder on preventable penalties that can mire a game.

4. Where, oh, where is Marshwn Lynch? And how big are his muscles --  Lynch has been in the news this week, but not for his legs. Instead, he's been part of what the Seahawks are calling a "bogus" assault investigation. As late as Wednesday, Coach Carroll said Lynch had a long way to go in training, and Q13FOX 's Dave Wyman from Sports Radio 710 was wondered aloud late last week if Lynch would even have a carry this preseason.  Lynch's workload increased in training camp this week, but will it increase on the field?

3. Calling all breakout players -- Thursday's game against the Broncos seemed to miss one component frequent in the preseason: A breakout player. Sure, cornerback A.J. Jefferson looked good in pass protection. Sure, the Seahawks first-round draft pick Paul Richardson looked sharp on crossing routes. But there was nothing in particular that stood out from an unknown name. 2013 was marked by runningback Christine Michael, dashing through the defense and sprinting for big games. Who will it be this year?

2. Can the Offensive line hold -- There's not any stars as bright as DeMarcus Ware on the San Diego Chargers, but whether or not the Hawks line can stop the pass rush remains to be seen. All in all, the Hawks offensive line was one of the most questionable aspect of their game during the 2013 championship run. And though the Hawks were missing three starters -- including two Pro Bowlers-- is was nerve racking to see Wilson sacked and on the run against the Broncos. Sometimes patchwork and leaky, sometimes strong and steadfast, the O-Line is perhaps again the biggest question of the year.

1. Terrelle Pryor. And Terrelle Pryor -- Whether or not quarterback Terrelle Pryor will be on the team when the Hawks enter the regular season seems to be the question of the moment. Though Pryor led the Hawks in offense Thursday, passing for 137 yards and running for 28 more,  not everyone is convinced he's in Seattle to stay. Pryor has enormous shoes to fill if he wants a back-up roll behind Wilson, competing with steadfast and even-keeled Tarvaris Jackson.  Can he impress again and work his way onto the roster when the Hawks break camp? Or, is he just showing off until another team picks him up once he's released by the Hawks?

Coverage for Chargers vs. Hawks starts at 4 p.m. Friday on Q13 FOX News