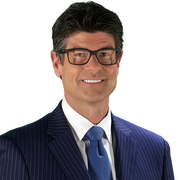 Good Day Seattle anchor Bill Wixey is an Emmy Award-winning journalist who has anchored and reported in Seattle since 1998.
Bill grew up in the Seattle area. He is a graduate of Lake Washington High School in Kirkland and the Edward R. Murrow School of Communication at Washington State University.
Bill has covered major news events all over the world. He reported from South Asia shortly after the 2005 tsunami. He also reported from the devastating earthquake in Haiti, as well as the Olympic Games in Beijing, Vancouver and London.
Bill has won two Emmy Awards for his anchoring and reporting. In 2003, Bill won an Emmy for his outstanding work as an anchor. He also won an Emmy in 2010 for "Bill's Journey," which documented his successful battle over Hodgkin's Lymphoma. Bill was voted Western Washington Man of the Year in the "Best of Western Washington" contest in 2009. Bill received accolades for his 2005 "Mission of Hope" documentary, in which he traveled to Sri Lanka shortly after the devastating tsunami to document the recovery efforts.
Before coming to FOX 13 FOX, Bill was a principal anchor at Fox Sports Net, where he covered the Mariners during their amazing 116-win season of 2001. Prior to that, Bill worked as a sports anchor and reporter for KIRO-TV in Seattle. Bill covered two Super Bowls with the Packers while working in Green Bay, Wisconsin. He covered two Final Fours with the Arkansas Razorbacks during his time in Fort Smith, Arkansas. He launched his broadcasting career in Great Falls, Montana in 1991.
Bill is happy to donate time to worthy charitable causes in the community. He is involved in charity ventures with the Ronald McDonald House, The Leukemia and Lymphoma Society, American Cancer Society, St. Jude's Hospital, Junior Achievement and the Muscular Dystrophy Association.
In his spare time, Bill is usually playing hockey, golfing, reading, running, watching movies, or spending time with his kids. Bill lives in his hometown of Kirkland, Washington.
The latest from Bill Wixey
It sounds crazy, but climate change could actually benefit Washington state.
Used car prices have jumped 50% over the course of the pandemic.