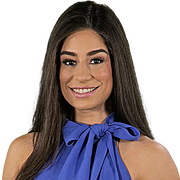 Lisa Villegas
Chief Meteorologist
Lisa Villegas serves as Chief Meteorologist for FOX 13 News in Seattle, Washington, delivering weeknight weather forecasts Monday through Thursday at 8, 9, 10 and 11 p.m. and Sundays at 9, 10 and 11 p.m. She joined the news team in October 2020.
Lisa was born and raised in Pittsburgh, Pennsylvania and holds a Bachelor of Science degree in Applied Meteorology from Embry-Riddle Aeronautical University.
The Emmy Award-winning meteorologist came to Seattle from KOLD in Tucson, Arizona, where she served as Chief and was voted Best Local Weatherperson in 2019 and 2020. Previously, Lisa studied and forecasted weather in Florida, Louisiana and Texas.
Lisa is an advocate for health and fitness, when not working at the FOX 13 News studio, you'll find Lisa exploring Seattle's hiking trails, paddle boarding with her dog Biscuit, checking out vegan restaurants, or at the gym training for fitness competitions. So if you spot her around town, please say hello.
The latest from Lisa Villegas