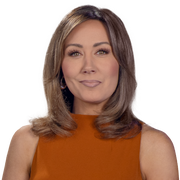 Jamie Tompkins
Anchor/Reporter
Where do I begin? It all started back in 1991, when my writing was first published in a book… an actual book! It was a pretty big deal for me back then, considering I was only nine years old. Since then, my writing has taken me around the country; from coast to coast.
I started my career in local television in 2003, serving as Host and Producer for Union TV34. There, I learned to not only write for TV, but also shoot and edit my own stories.
In 2004, I accepted a position as Host of "Comcast Newsmakers" and "Comcast on the Red Carpet". Both programs were produced by CN8 The Comcast Network (Philadelphia) and aired on CNN Headline News (HLN). In 2007, I was appointed Director of Operations for Westfield TV36, where I was responsible for overseeing all technical and creative responsibilities.
In 2009, I took the girl out of Jersey... accepting a position at WATE 6 NEWS (ABC) in Knoxville, TN. There, I served as Anchor/Reporter on morning, afternoon and evening broadcasts. I was proud to receive several awards for reports focused on the military. At the risk of helmet hair, I even threw on a uniform and bulletproof vest to train with the 278th, documenting their preparations for deployment to Iraq. From high risk to high profile, I also handled the station's celebrity red carpet segments, including the CMA's in Nashville.
In 2011, my writing launched me from coast to coast, when I accepted an Anchor/Reporter position with KOMO 4 News (ABC) in Seattle. While at KOMO, I met my husband, (he's a Director), and we married in September of 2013. It's still up in the air who asked who…I've made a home here in Seattle with my husband, his three awesome kids and my furbaby, Mikey. Now, here I am at FOX 13 News!
Let me tell ya, it took a lot to get the girl out of Jersey… and much more to get her to stay and call Seattle home. I'm so happy to share this community with you and I look forward to sharing its stories. YOUR stories! Right here on FOX 13 News.
The latest from Jamie Tompkins