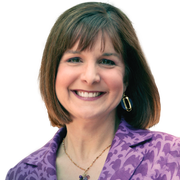 M.J. McDermott
Meteorologist
I have a degree in Atmospheric Sciences from the University of Washington and I'm proud to say that I am the first woman and TV weather person to win the annual UW Forecasting Competition in more than 60 years. I'm also a member of the American Meteorological Society and hold its Broadcast Seal.
Aside from that, I also have a degree in Theatre Arts from the University of Maryland. After working in New York City as an actress, I moved to Seattle. In the early '90s, I co-hosted a children's TV show on KSTW with Rosco T. Raccoon and won an Emmy.
I am an Air Force brat who was born in Florida and I moved a lot as a kid – I've now lived in Seattle longer than anywhere else. I live with my husband and twin teenage boys in north Ballard.
The latest from M.J. McDermott
An atmospheric river -- a long plume of moisture from the Pacific -- is pointing right at us, bringing us rain at times. 
With rain on top of melting snow today, the main impacts will be difficult travel - in a car or just walking around.  
The coldest air of the year is moving into Western Washington.  As precipitation moves in overnight tonight into Thursday, it will fall as snow.  The forecasting question is WHERE? 
A high-pressure ridge offshore is permitting the jet stream to point right at us, giving us rain at times today and tomorrow morning, then a chance of rain over the weekend too.
Overnight into Sunday morning, precipitation returns, moving into cold air.  This is a chance of some low-elevation snow or rain/snow mix. 
Our New Year's Day will be relatively quiet with rain at times, winds kick up this afternoon, especially on the coast and to the north, and mild afternoon highs in the low 50s. There will be snow in the mountains, but the snow level will be around 5,500 feet, so it's rain at the passes today.