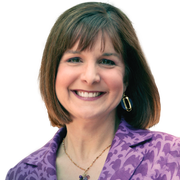 M.J. McDermott
Meteorologist
I have a degree in Atmospheric Sciences from the University of Washington and I'm proud to say that I am the first woman and TV weather person to win the annual UW Forecasting Competition in more than 60 years. I'm also a member of the American Meteorological Society and hold its Broadcast Seal.
Aside from that, I also have a degree in Theatre Arts from the University of Maryland. After working in New York City as an actress, I moved to Seattle. In the early '90s, I co-hosted a children's TV show on KSTW with Rosco T. Raccoon and won an Emmy.
I am an Air Force brat who was born in Florida and I moved a lot as a kid – I've now lived in Seattle longer than anywhere else. I live with my husband and twin teenage boys in north Ballard.
The latest from M.J. McDermott
A cold front is slicing through the region this morning with rain, heavy at times, and gusty winds.  There is a Wind Advisory posted now until 10 a.m. for the Washington Coast and the North Interior - areas in orange on this map.  With gusts up to 50 mph we could have tree limbs down over power lines and power outages.  
A huge plume of smoke is being pushed into Western Washington today by onshore winds.  Air quality is bad and will be degrading throughout the day.  It could stay bad throughout the weekend.  The National Weather Service has extended the Air Quality Alert through Monday at 11 a.m.
Today will be sunny and seasonally warm - upper 70s to near 80 - a perfect August day.  Normal for Seattle is 77.  Overnight, clouds move on shore and we'll wake up to some rain tomorrow morning.