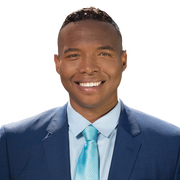 Omar Lewis
Anchor/Reporter
Omar Lewis is an anchor and reporter on Q13 News This Morning and joined the team in February 2019.
An Atlanta native, Omar graduated from the University of Georgia with a degree in broadcast journalism.
Before coming to Seattle, he spent four years as an anchor and reporter at Miami's Fox affiliate WSVN-TV, where he often covered national stories including Hurricanes Irma and Matthew, the Parkland mass shooting, and the student-organized March For Our Lives.
Omar started his career in broadcast journalism at CBS News in New York City before working as a multimedia journalist for KXXV-TV in Waco, Texas. Omar then spent two years as a reporter at NBC affiliate KXAN-TV in Austin, Texas. During his time in Austin, Omar covered music festivals like Austin City Limits and SXSW and was awarded by The Associated Press for his reporting.
Omar enjoys trying new restaurants and exploring all the beautiful parks and trails that the Pacific Northwest has to offer. Please feel free to send your favorite recommendations and story ideas his way.