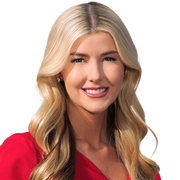 Like many as a child, I was terrified by crime. But I was also fascinated by it. As I got older, fear subsided and my interest continued to grow, particularly in how crimes were solved.
I was captivated by true crime stories and I wanted to be the one telling them. I also knew I wanted to get as close to the investigations as possible, working with law enforcement and helping to bring in new leads.
During my time studying journalism at Hofstra University in New York, I also took courses in forensic science, criminal psychology and criminal law. I then went to the University of Southern California to get my master's degree in journalism.
From USC I went on to work in Bakersfield, California, at the NBC affiliate KGET. There I covered a large area of central California that was ridden with pretty much every kind of crime you can imagine. It was there that I quickly realized my passion for working on unsolved cases.
As a crime reporter, I found there was nothing more rewarding than working with the loved ones of a homicide victim whose case had seemingly been forgotten about by the general public. My goal with every cold case I covered was to bring in enough new information to get the case reopened.
In my four years at KGET, I was very fortunate to get to work closely with law enforcement and victims' families on cases that grew very close to my heart.
Some of my work on cold cases earned two Edward R. Murrow awards as well as two Emmys in crime reporting. Some of my work has been featured on Dateline NBC, Dr. Phil, and other national shows that spotlighted homicides I covered extensively.
Covering crime in the Pacific Northwest is a new adventure I look forward to taking on. I am eager to work with families who deserve to feel their loved one is not forgotten and they are not alone in their search for answers.
My family moved to Kirkland when I was in school in New York, so this is the first time I've gotten to live in the same state as my parents and siblings in a long time! It's been great to have the LaVoices back together, and a lot of fun as they show me the beauty of Washington state.
When I'm not reporting, I'm usually watching a murder documentary with my three rescue dogs (each of which I somehow ended up with while covering various stories in California). They're slowly but surely getting used to the Washington weather.
If there's a case you'd like me to look into, please don't hesitate to reach out. I'd love to hear from you.
The latest from Olivia LaVoice
COVID-19 has been a seemingly never ending nightmare for small businesses, with many struggling to stay afloat and some having to close down permanently. But one local business owner says she's found a way to make her business thrive. 
Mayor Jenny Durkan on Monday said city councilmembers have "admitted they were wrong" when they committed to defunding the Seattle Police Department by 50 percent this year. 
The mother of Lindsey Baum is calling for more searches of the wooded area of Kittitas County where hunters found a small piece of her 10-year-old daughter's skull. The fragment was discovered in 2017 more than 100 miles away from where the 10-year-old was kidnapped in 2009 from her hometown of McCleary.
A UW Medicine doctor running a clinic for patients struggling to recover from Covid-19 warns that prolonged symptoms - shortness of breath and extreme fatigue - can linger for months in otherwise healthy people.
Businesses in the area say they aren't taking their chances. In many ways, they feel it's on them to protect themselves.
King County plans to shut down the county jail and juvenile detention center in Seattle, but the future of the current inmates is unclear.