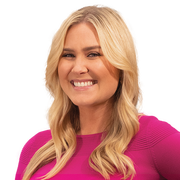 Michelle Ludtka
Sports Anchor
As a Seattle native, I'm thrilled to be back in the Northwest, working at Q13 News. I knew at a very young age that I wanted to be a Sportscaster. That passion only grew while at the Edward R. Murrow College of Communication, at Washington State University.
During college, I interned for Root Sports and Sony while reporting for ESPNU Campus Connections. After graduating I headed to Idaho Falls, Idaho where I honed my skills as a Sports Anchor/Reporter.
I am a die-hard Seahawks, Sounders and Mariners fan and proud to be covering the teams I grew up watching!
What keeps me going….The love of the game and sharing that with Northwest Sports Fans.
I give back to my community by….Mentoring students interested in careers in sports broadcasting. I've served as a guest lecturer in college and high school classrooms. I enjoy inspiring the next generation to find and pursue their passion.
My greatest TV moment….Playing basketball with the Harlem Globetrotters… they even helped me slam dunk!
TV moment I would like to forget….When the NFL Lockout ended, I was so overcome with joy I burst into song and dance "Are You Ready For Some Football" on live television…
If I had free time, I would….Travel, anywhere and everywhere! Spend time with my family and friends, take a yoga class and participate in any activity that gets me moving and outdoors.