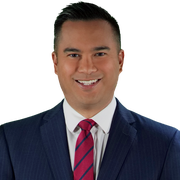 Brian Flores
Anchor/Reporter
I just want to start by saying I'm never good at writing these. But here we go. Hi, I'm Brian. (And you say: "Hi Brian"). I've been at FOX 13 News since 2016. I'm an anchor on Good Day Seattle.
When I started at FOX 13, I was the weekend morning anchor and a reporter three days during the week. Did you get all that? There'll be a quiz later.
Before coming to Seattle, I worked in the Bay Area from 2012-2016. I was a morning anchor/reporter for KTVU in Oakland, California. And before that, I was a reporter in my hometown of San Diego, California, for Fox 5 San Diego. And before that, I was a reporter in Kennewick, Washington, for KVEW. AND BEFORE THAT, I was born. Just kidding.
Journalism runs in my family. My Dad, Ernie Flores, Jr., was a print journalist for many years. He was a journalist in the Philippines before coming to the United States in the 1960s. His first job in the U.S. was for the Arizona Republic. He then moved to San Diego where he was a reporter for the San Diego Union newspaper.
He was the first Filipino reporter for both newspapers. But in the late 80s he wanted to start a paper, specifically for the Filipino community in San Diego, so he started The Filipino Press. Even though my Dad passed away in 2005, the paper remains in publication.
I also have a cousin who's a journalist for KQED in the Bay Area. How I got into TV news, though, really stems from my mom. Not only did she raise me and my sister on her own, but I remember watching hours and hours of local news or 20/20 and 60 Minutes. At a young age, I said, "I can do that." So, thanks Mom!
I grew up in San Diego (specifically Mira Mesa. Woo woo!!). I am also a proud graduate of California State University, Northridge (go Matadors!). I'm married to the love of my life and have three AMAZING kids.
In terms of my career, I've covered it all: team championships, tragedy, breaking news, natural disasters, reunions, protests, politics. I've even been on Panda watch.
Through it all, it's been a blessing to tell your story. Hope you can join me on TV.
The latest from Brian Flores