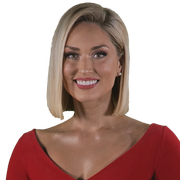 Hi! Thanks for clicking this bio to learn more about me. I'm so grateful to be part of Good Day Seattle, which in my opinion is the best morning news show on planet Earth.
Since 2014, I've been lucky enough to help you start your mornings on FOX 13, but I've been in this business for well over a decade, reporting and anchoring all over the country. Before arriving in Seattle in 2013, I worked as a morning anchor in Oklahoma City. The wild weather I covered was the most unforgettable, reporting live in floods, ice storms, and even in the aftermath of massive tornadoes. Before that, I worked in Flint, Michigan, at the height of the recession, covering the auto industry and its impact on the local community. I got my start in TV in 2007 Yuma, Arizona, as an anchor, reporter and producer, covering the US-Mexico border, immigration and presidential visits. I even did the weather in Yuma, which is one of the hottest places in the nation.
Arizona was also where I met my husband, Adam. We were married in Woodinville in 2013. My husband and two sweet dogs are my most precious cargo in this world. We have two Pomeranians: Wolfie is 15, and Diggy is 4. If you ever want to see their photos, I have about 9,000 of them on my phone that I am happy to show off.
Other than that, I love going to dance class with my girlfriends, weight training at the gym, napping (I mean, I AM on a morning show and perpetually sleep deprived), drinking wine while online shopping, going for walks on Alki Beach, catching up on my favorite TV shows and reading. I'm always looking for a new page-turner or bingeable show. If you have any good book or TV show suggestions, find me on Facebook, Twitter and Instagram. See you on TV!