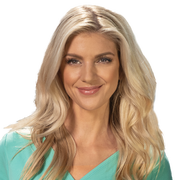 Ali Bradley
Anchor/Reporter
There aren't words to explain how honored I am to be back home. I was born and raised in Oso, Washington, and graduated from Arlington High School. I earned my BA from the Edward R. Murrow School of Communication at Washington State University — Go Cougs!!
I knew from the moment I stepped foot in my first journalism class, telling stories and informing my community was my only path. That path started in 2012 in Casper, Wyoming, then Toledo, Ohio and York, Pennsylvania. Telling human interest stories of triumph along the way has been my passion. Because of those stories, I was honored with three Pennsylvania Association of Broadcasters awards.
I have watched and reported from afar the issues that impact my fellow Washingtonians. My entire family still lives in Snohomish County. They are and always have been a priority for me, and the fact that my Poppop can watch me on his favorite news station from the comfort of his home fills my heart. My mother single-handedly raised my 3 sisters and me — teaching us what it means to be persistent, patient, and most importantly, empathetic to others.
I get to be home to see my 5 amazing nephews and glorious niece continue to grow, while God-willing, growing a family of my own. My husband and I now live in Seattle with our two pups, Bob (a Cocker Spaniel) and Phyllis (a Cavalier King Charles Spaniel). We love being outdoors, and can't wait to explore.
I am beyond proud to represent Q13 and what it means to be "All Local." I'm always here to listen to your story ideas, so if you want to chat, send me an email.
Thank you so much for the support!