Zoo downplays baby elephant contract: 'This calf will stay here'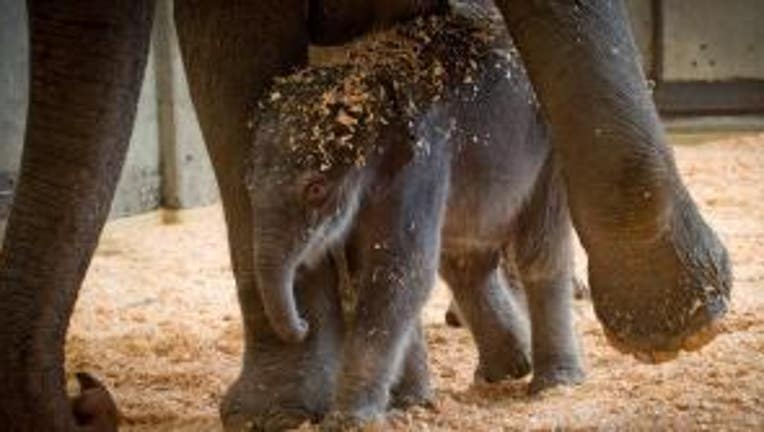 PORTLAND -- The director of the Oregon Zoo played down a controversy over its contract with an elephant rental company Tuesday, saying that although the zoo doesn't own its new baby elephant, the 300-pound newborn calf will not be leaving.

Zoo Director Kim Smith said the zoo is in negotiations with the company, Have Trunk Will Travel, to own the baby elephant.

Oregon Zoo's elephant Rose-Tu gave birth to the still-unnamed baby early Friday morning, but controversy surfaced when a contract  showed Have Trunk Will Travel has ownership of the second, fourth and six calves fathered by the baby elephant's father. That means the baby elephant actually belongs to the elephant rental company.

Tusko, the elephant father, is owned by Have Trunk Will Travel and was contracted by the Oregon Zoo to breed with Rose Tu. He is also the father of Samudra, an Oregon Zoo elephant born in 2005.

The contract allows Have Trunk Will Travel to terminate its agreement with the zoo as long as they give the zoo 60 days' notice.

During a news conference, Smith said the contract is "not a big deal" and that the zoo feels very strongly about the baby elephant remaining with the herd.  She described the breeding loan agreement with Have Trunk Will Travel as "not uncommon."

Smith said the elephant rental company is supportive of the Oregon Zoo's mission, and that there have never been any complications between agreements with other zoos. She said there's no precedent of Have Trunk Will Travel removing an animal it owns from another zoo.

"This calf will stay here with her family and grow up with her family," Smith said.

Smith also pointed to beloved Oregon Zoo elephant Packy, born 50 years ago at the zoo. That elephant was not owned by the zoo, she said.

"We've always been transparent," Smith said of the zoo and its polices with animal ownership.

Have Trunk Will Travel has been the subject of animal rights investigations in the past and, according to a report in the Seattle Times, "has generated controversy over its 30-year history for its use of chains and bull hooks… to discipline elephants and train them to perform tricks."

FOX 12 has been unable to reach Have Trunk Will Travel for comment.

-- FOX12 Oregon (KPTV/Portland)

To read updates and/or a KPTV video, click here.