Youth sports: Keeping your kids safe from overuse, long-term injuries
SEATTLE -- What we're seeing more of these days are more children choosing to play one sport -- specializing early -- and some argue that doing so comes at a cost.

All this week, Q13 is taking a closer look at youth sports, from club and select teams, to participation and injuries.




Three shoulder surgeries and chronic pain are what brought 23-year-old Kortney Kay into Dr. Tommy John's chiropractic office.

"I kept trying to work out through them," she said. "I ended up hurting my back and have some degenerative disc things."

A swimmer since she was a kid, Kortney says all those years in the pool pushed her growing body beyond its limits.

"Can't get injured, can't ski, can't be a kid -- have to do your sport. Stay in those lines, it's a lot of pressure," she said.




Dr. John sees athletes like Kortney all the time -- kids as young as 9 who have specialized in a sport early on. He says it's not just a problem, it's an epidemic with long-term consequences.

"I've worked with a lot of professional athletes, pretty common when you see people working at that level -- that stuff's going to happen. That's fine. But when you see those things coming into the 10-, 11-, 12-year-old, that's got to stop."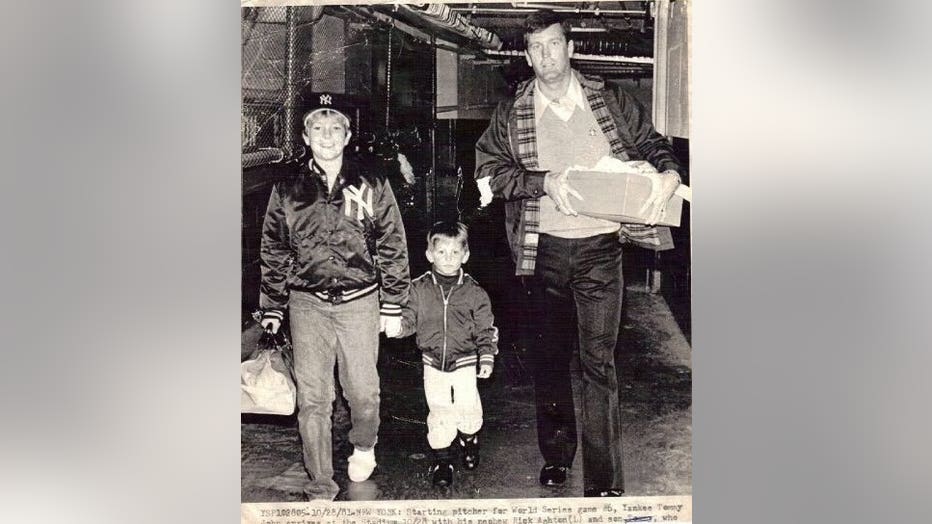 Dr. John with his father, MLB All-Star Tommy John.


Part of John's passion comes from his past. He played multiple sports as a kid and went on to play baseball in college. He's also the son of four-time MLB All-Star Tommy John -- the same Tommy John who had ligament surgery on his pitching arm in 1974 and went on to play in three World Series.

"The main Tommy John surgery used to be something that was attached to a professional athlete. It bears my dad's name. Now it's attached to something that's being done in kids more than adults -- that's what we are sick about."

It's estimated at least one in four Major League pitchers undergoes Tommy John surgery. But a study published in July 2015 by the American Orthopedic Society for Sports Medicine found that more than 56 percent of Tommy John surgeries were being performed on kids 15 to 19 years old.

John says this is a wake-up call -- not just in baseball, but in sports.

"We need to rethink how we're going about youth sports," he said. "Rethink. Maybe it's not such a smart idea to play year-round. We've got to get rid of the environment that's creating the injury.

"Most of the surgeons I've had conversations with, they don't want their business driven by youth. They're just like, help me."

Dr. Steve Anderson specializes in sports medicine in Seattle.

"I'd say there's probably more overuse injuries. In the old days, which wasn't that long ago, kids would play seasonal sports and they might have a season off here and there to recover. But now there are more kids doing year-round and sometimes playing on multiple teams," he said.

Anderson warns that specializing in a sport early on can impact a child's growth and development. And overuse injuries as a kid may lead to health problems down the road, like osteoarthritis and chronic pain. But he adds that inactivity should never be an option.



"Any of the risks, both short-term and long-term, of injuries has to be balanced with the fact that we have an epidemic of obesity and we have so many problems due to sedentary lifestyles."

At John's practice, Colin Denney gets in his weekly stretches. His dream is to one day play college baseball.

"About a year ago, I started having issues with my arm, with my throwing. No pain, but I couldn't feel anything in my arm when I threw. Didn't have control of the ball, didn't really know what was going on," he said.

After about six months off, Colin says his throwing arm is back to 100 percent.

"Now it's more strength-training and preventing injury," he said.

It's an approach that Kortney says also worked for her -- understanding that taking a step back ... can get you ahead.

"My body is the best it's been since 9 years old," she said.

Dr. Tommy John put together what he's calling a sports parents' survival guide. His book -- Minimizing Injury, Maximizing Performance -- will be released next month.