'You're shooting at my home!': Neighbors happy popular Greenwater target-shooting area is now closed
PIERCE COUNTY, Wash.-- A popular but misused spot for target shooting on U.S. Forest Service land in the Greenwater area near Mount Rainier has only been closed for two days now. But already the first two signs letting shooting enthusiasts know about the change have been set on fire.




"I'm sure there's a lot of unhappy target shooters," says Wendy Scholl, a community activist with the Crystal River Ranch subdivision less than a mile away from the shooting area. She and many others in her community have been trying to educate target shooters here for more than a decade.

"Hey, you're shooting at my home," Scholl says she'd say to target shooters. " 'Ohh no, no that's all forest land.' No, it's not. "

Their vocal concerns about bullets flying into their community was one of several reasons the Forest Service temporarily closed this target-shooting area called by locals as the 70-13 -- named for the logging road that it sits on.

Scholl and retired police officer and former state lawmaker Chris Hurst took Q13 News on a tour of the site on U.S. Forest Service land outside of Enumclaw.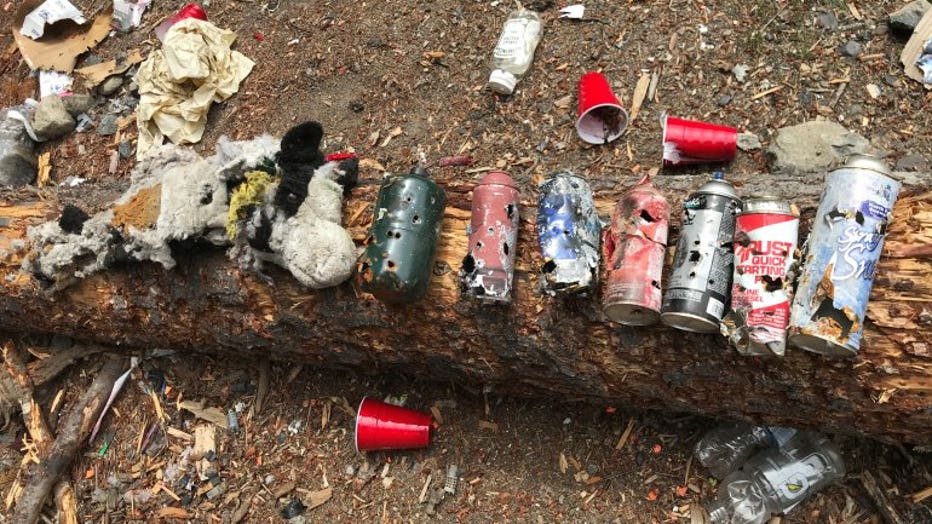 "This is really clean here today," says Hurst.

But, the ground is still covered with bullet casings, and trash. It's an area that Hurst says was logged years ago for elk feeding habitat, but you won't see any elk here these days. What you do see is a clearing full of what's called 'trigger trash' of every kind, including electronics with toxic metals and even explosive devices, too. Bullet-riddled propane tanks and aerosol cans are all over this piece of publicly owned land.

"Why do they shoot at non-biodegradable and particularly incendiary devices," asks Scholl. "Why is that? They've got to see something blow up. The wildfire danger to our community and the whole .. this is public land.  Last year the Sawmill Creek Fire was started by incendiary target shooting."

The two say community cleanups in the past would only briefly stem the flow of refuse to be picked up and discarded.

"Within four or five days, there's literally truckloads ," and Hurst says a large metal trash can was not well-received at the site either. "They filled it with explosives and then you can see the bullet holes, looks like .50 caliber."

A year ago, the Forest Service put target-shooters here on notice to behave themselves -- warning them to use the earthen backstop, as rules of federal lands dictate, stop shooting at incendiary devices and leaving behind trash. But, community members at Crystal River Ranch say the bullets kept flying over and through a grove of trees adjacent that lead to a low spot in the topography and toward the community less than a mile away, home to about 600 people.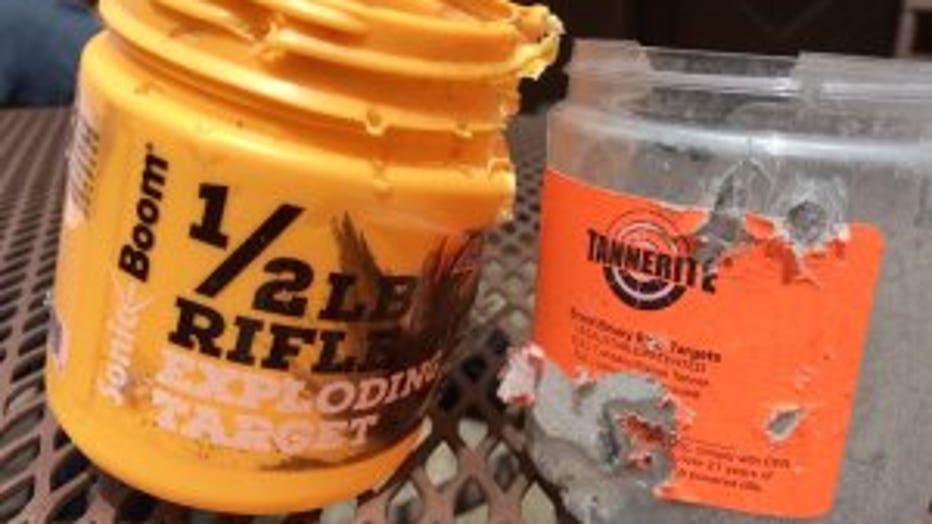 "This is what the shooting at the 70-13 is," says Hurst.  He and other residents show where a bullet went through the window of their community center and point out houses in their rural neighborhood with which houses have had bullets land on lawns or embed in rooftops. And that's not the only direction for errant bullets to cause problems.

"They use automatic assault weapons to shoot these trees down and you can see there's no backstop here," says the former police officer Hurst, pointing down Forest Service road 70-13. "This is a road, this is a hiking and a biking trail."

And looking directly at several targets painted on trees, one can see every few minutes -- the windshields and headlights of oncoming cars and motorcycles on the well-used Forest Service road 70.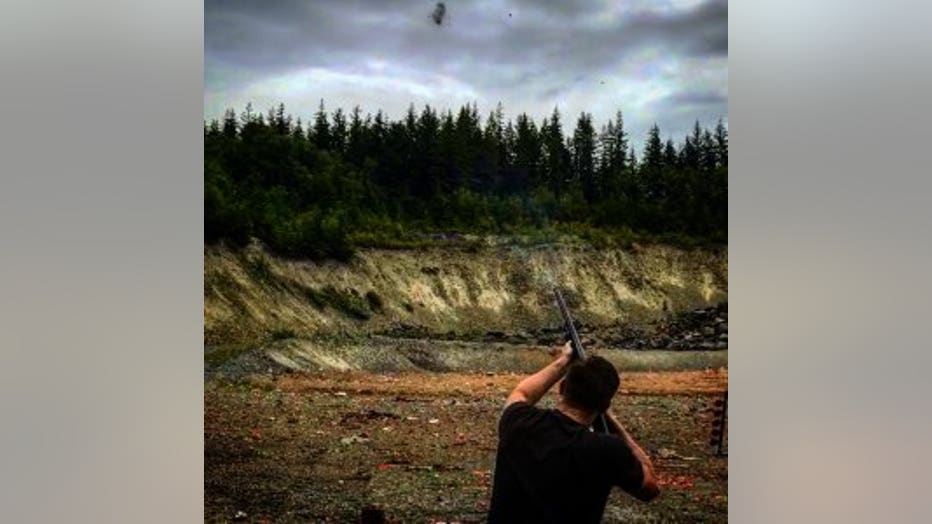 We went three miles up Forest Service road 70 to a different spot where an old rock quarry has been converted to a target area. These type of spots are scattered all throughout these federal lands, perfectly legal, and free to anyone. We wanted to ask target-shooters there what they thought of some bad apples spoiling the sport for responsible shooters. While none wanted to talk on camera, they say it's definitely unfortunate. And while we saw one target-shooter cleaning up their casings and trash, this area was also full of spent shells and other target trash.

"Everybody that recreates has a responsibility," says Hurst. The former state legislator who used to represent this part of Washington state in Olympia owns guns himself. But, he says, the shooting community needs to start self-policing. "When you're out shooting and you see someone shoot incendiary devices -- take a picture, write down license plate, call 911. "

And while the closure of this popular target-shooting area is temporary, the residents in Crystal Springs Ranch hope they can convince the U.S. Forest Service to keep this particular spot closed for target shooting permanently.