You're out! Former Mariners pitcher Pineda ejected for pine tar on neck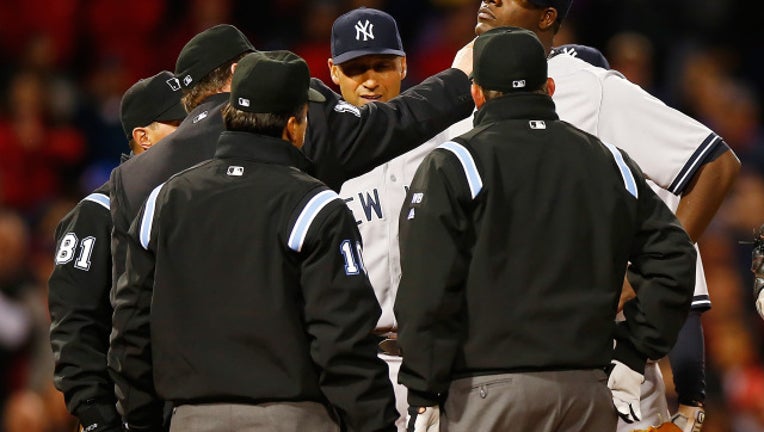 BOSTON -- Boston Red Sox manager John Farrell didn't forget to ask this time around. A little less than two weeks after a mysterious substance on the hand of New York Yankees pitcher Michael Pineda went unchecked in a dominant win over Boston, he was ejected from Wednesday night's game against the division rivals after umpires discovered pine tar on his neck.
The Yankees' official Twitter feed noted that Pineda would be replaced by righty David Phelps.
As Bob Nightengale of USA Today noted, the crew first examined the ball Pineda was using and then his neck before home-plate umpireGerry Davis sent him to the showers.
After struggling mightily with command and location in the first, Pineda was decidedly better in the bottom half of the second. He forced consecutive fly-outs from Brock Holt and Jackie Bradley Jr. before working Sizemore into a deep hole.
Pineda, 25, had been having a sterling season before the controversy. Finally healthy after two years' worth of injury setbacks, he has a 2-1 record with a 1.83 ERA and 1.02 WHIP. Pineda has been one of quite a few bright spots for the 12-8 Yankees, who are trying to make the playoffs after finishing with their lowest winning percentage in two decades in 2013.
It's ironic that the Red Sox were the ones to call Pineda out for using a foreign substance as two of their own pitchers have had similar accusations hurled at them in the last year. In May of last season, Jack Morris and others accused Clay Buchholz of doctoring the ball.
In the 2013 World Series, Jon Lester seemed to consistently be going to a strangely bright spot in his glove during a masterful Game 1 performance against the St. Louis Cardinals. Neither of their opponents in those instances asked for the pitchers to be examined by the umpires for foreign substances, however.