Young gray whale found dead in Puget Sound examined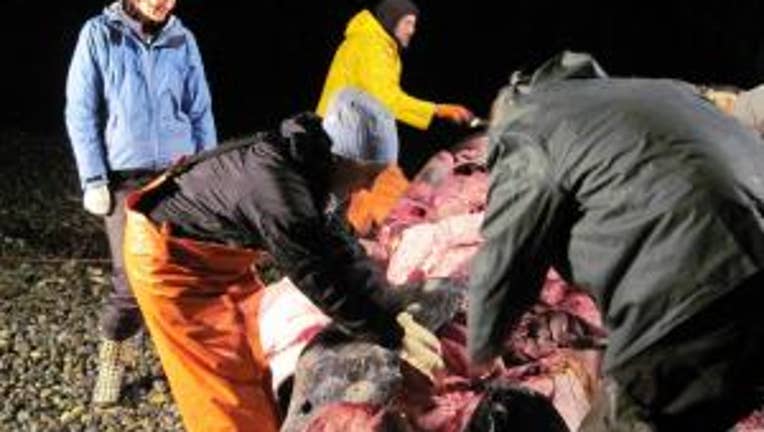 MANCHESTER, Wash. -- An examination Wednesday of a young, 29-foot male gray whale that died in the Puget Sound found that the mammal was in "poor nutritional condition" and showed signs of a past severe killer whale attack, but it was not immediately clear what led to its condition and death, the Washington Department of Fish and Wildlife and Cascadia Research said.

WDFW and Cascadia Research conducted the examination, with the assistance of the Navy and the National Oceanic and Atmospheric Administration, at Manchester, Wash. The whale was found dead at the Bremerton Navy shipyard  on Jan. 19. The experts said the whale appeared to be 2 to 3 years old and was not reproductively mature.

"The whale was in poor nutritional condition indicated by relatively thin and dry blubber layer, with only low amounts of oil. This is the opposite of what should be expected this time of year when animals should be fat from feeding through the spring, summer, and fall," the WDFW and Cascadia said in a statement on the examination's preliminary results.

"There were indications of a past relatively severe killer whale attack based on healed teeth rake marks at multiple locations including the flukes (distal ends gone), pectoral flippers, and both dorsal and ventral side of posterior portions of the body.

"The animal had been attempting to feed along the bottom based on recovery of several gallons of stomach contents that did not appear to contain edible prey -- but instead had woody debris, sticks, bark, and sediment.

"There were not recent injuries apparent that would have been sufficient to kill the animal; most were more minor scrapes or healed injuries (like the killer whale attack marks)."

The report said that a wide variety of tissues were sampled for later testing and examination that could provide additional insights into the condition of the animal and other contributing factors to why it ended up in Puget Sound and died.

Cascadia Research and the WDFW said this was the first dead gray whale recovered in Washington state for the year, but that there are typically an average of six gray whales that die and strand in Washington each year.

Late December and January is the time most of the eastern North Pacific gray whale population migrates south past Washington headed down to winter breeding areas in Mexico and this whale was likely one of those that was not in good enough health to complete the migration, the report said.