Yelm horse euthanized after owner finds tongue cut out in mysterious accident


YELM, Wash. -- The final determination of a forensic Necropsy on a horse named Annie found with it's tongue missing shows it appears to have been an accident. However, forensic veterinarian Victoria Smith of the Steamboat Animal Hospital told Thurston County Sheriff's deputies she has never seen an injury like it before and cannot speculate how it happened.

Smith first thought the injury appeared intentional but as she got deeper into the mouth, she found more of a tear. There were no other lacerations in the mouth. She was able to manipulate the remaining part of the tongue and found bruising.

The 28-year-old horse had to be euthanized Wednesday night because she wouldn't have been able to eat or drink without its tongue.

ORIGINAL STORY:

Thurston County sheriff's deputies are investigating whether someone cut out the tongue of a horse or if the tongue was severed in an accident.

Deputies say Annie, a 28-year-old sweet horse who would approach anyone, was found Tuesday by her owner in her backyard in the 9500 block of Bridge Road in Yelm.   "She saw what she thought was originally a dog KONG toy. She realized it was actually a horse tongue. It was about 6 inches long so she went and immediately went and checked on her horse and the horse was bleeding from the mouth," said Deputy Carrie Nastansky.

Unfortunately, Annie wouldn't have been able to survive without her tongue and was euthanized later Wednesday.

The sheriff's deputy says the vet will do a Necropsy on the horse to determine exactly what happened.  The results we be available Thursday. The vet now says it is inconclusive as to whether the tongue was cut out by suspects or yanked out accidentally, which is why they want to do the Necropsy, the deputy said.  If she was mutilated, it would have taken three or four people to hold her down, the sheriff's office said.

Turns out, there was another recent case of animal abuse nearby. Deputies say it's possible they may be connected.

"There was a situation a couple months ago with a sheep that was found maybe half a mile from this location that was found alive, emaciated, which is extremely skinny, in two garbage bags. It was found by two girls riding their horses and we, unfortunately, weren't able to find that person," said Deputy Nastansky.



Pasado's Safe Haven and Washington's Most Wanted Host David Rose are offering a $2,000 reward to anyone who can help Thurston County sheriff's deputies solve what could be a horrendous case of animal abuse in Annie's case. Additionally, Crime Stoppers of the South Sound is offering a reward of up to $1,000 for tips leading to an arrest in the case.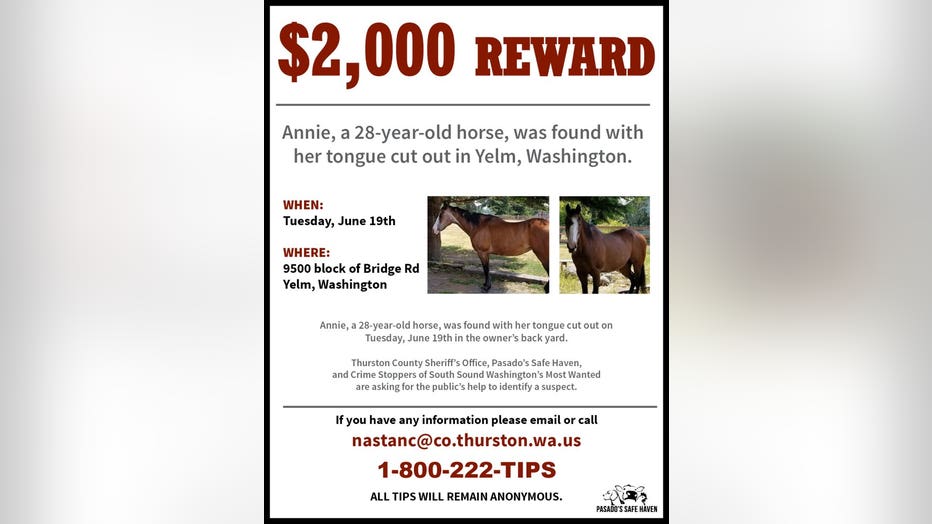 Anyone with information on a possible suspect can remain anonymous. Submit a tip at nastanc@co.thurston.wa.us or by calling Thurston County Sheriff's dispatch  at 360-704-2740. You can also submit an anonymous tip to Crime Stoppers of the South Sound at 1-800-222-TIPS, via the P3 Tips App on your phone,  or at www.P3Tips.com. 

If you would like to contribute to the reward amount, contact Pasado's Safe Haven.