WSP trooper says thank you for two separate random acts of kindness
Call it instant karma.

A Washington State Patrol trooper found himself on the receiving end of two separate random acts of kindness, just a few weeks after he was in the news for helping out a group of exchange students.

Trooper Brian Zillmer posted on Facebook on Monday that an anonymous strangers bought breakfast for himself and table full of troopers earlier that morning.

Then, when he went to pick up his uniform from the dry cleaner's, he found a note saying another stranger had picked up his tab.

"The actions of today sure makes me feel the public does appreciate and care about us, even though we are just doing our job, holding them accountable, and nothing personal," Zillmer wrote.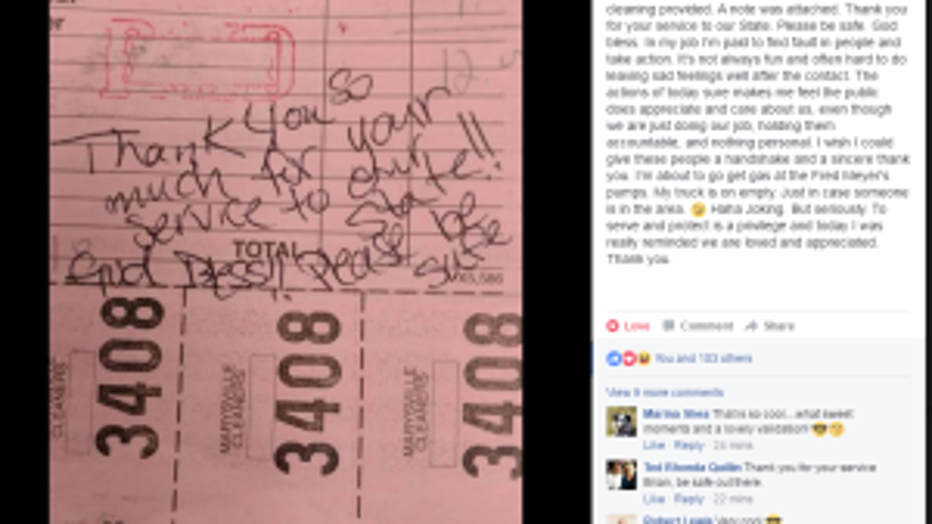 In December, Zillmer made headlines when he went to a crash on Stevens Pass involving three Japanese exchange students from Bellevue who had been heading to Leavenworth.

On his day off, Zillmer drove the three to Leavenworth on his own time and gave them a tour of the Christmas village.

"To serve and protect is a privilege, and today I was really reminded we are loved and appreciated," Zillmer wrote. "Thank you."