WSP says distracted driver caused crash that injured 26-year-old trooper


BELLEVUE, Wash. – A Washington State Patrol trooper is recovering after being hit trying to help a stranded driver. Investigators say a distracted driver slammed into his cruiser in the middle of Interstate-90.

Detectives believe the driver who caused the crash violated the state's 'Move Over Law' – a law everyone is supposed to follow when first responders are working an emergency scene on the highway.

The state patrol says their 26-year-old trooper had stopped behind a stalled car in the middle lane of eastbound I-90 with his emergency lights running on Tuesday.

But while the trooper was speaking to the stalled driver, another car came barreling up behind them and struck his cruiser which sent the officer flying.

"We all realize that could be us," said Sgt. Julie Fisher. "We realize that's a danger we face every shift. It's very scary."

Officials say 212 police cruisers have been hit while officers were on duty between 2007 and 2014. At the same time, more than 4,000 violators have been busted for not following the law.

"When you're driving, just drive," said Fisher. "Focus on that."

Washington State Department of Transportation cameras show the traffic backups caused by the crash near Eastgate.




One look at the trooper's smashed up cruiser shows the violence of the collision.

"She was distracted inside her vehicle but not by the things we normally think of," said Fisher.

Troopers say that 24-year-old driver from Snoqualmie told investigators she reached for something on the dashboard, either her stereo or heater.

Plus, a University of Washington professor who studies distracted driving says it's not just cellphones getting the best of our attention.

"Having these devices in the car they're not just looking at one specific area they're looking all over," said professor Linda Boyle.

The Move Over Law says drivers are supposed to shift over one lane at least 200 feet before they approach a first responder in an emergency zone. But if you can't move over drivers are supposed to slow their speed.

"A car slid off the road, and struck my vehicle," said WSP Sgt. Keith Leary, recalling his experience. "I was out of work for several months. It's not something we want to go through."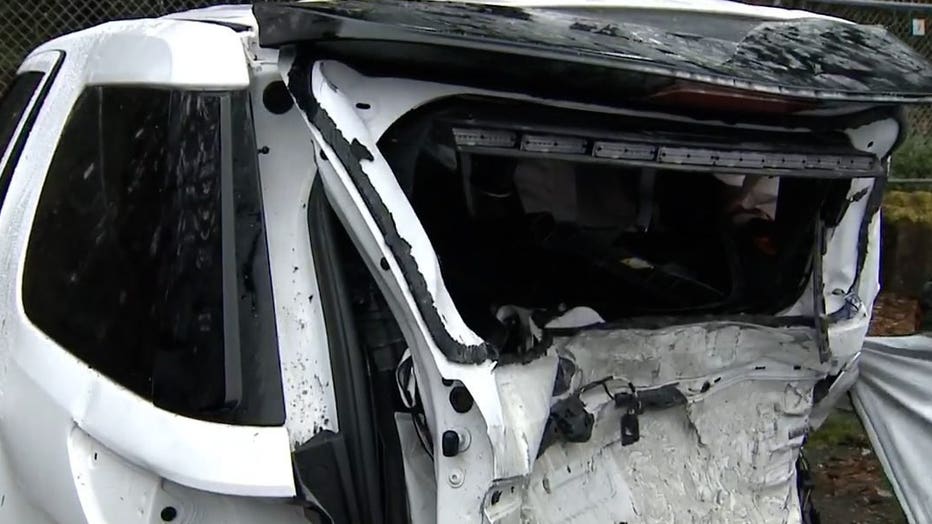 Leary says he and his colleagues work literally only a few feet away from cars traveling 60-70 miles per hour. Police say moving over isn't just the safe thing to do, it's also the law.

"Take those few seconds to slow down," said Fisher. "Any light that you see that are flashing, take a minute. What if it's even a vehicle with its flashers on? It's worth it to slow down."

Drivers caught speeding next to a cop that's pulled over could expect traffic fines to double. And it's possible drivers could face reckless endangerment charges if they jeopardize safety for cops, dot workers or tow truck drivers.