WSECU warns of wide-spread text message scam
SEATTLE -- The Washington State Employees Credit Union has asked people to be on the lookout for a text message scam affecting members and non-members.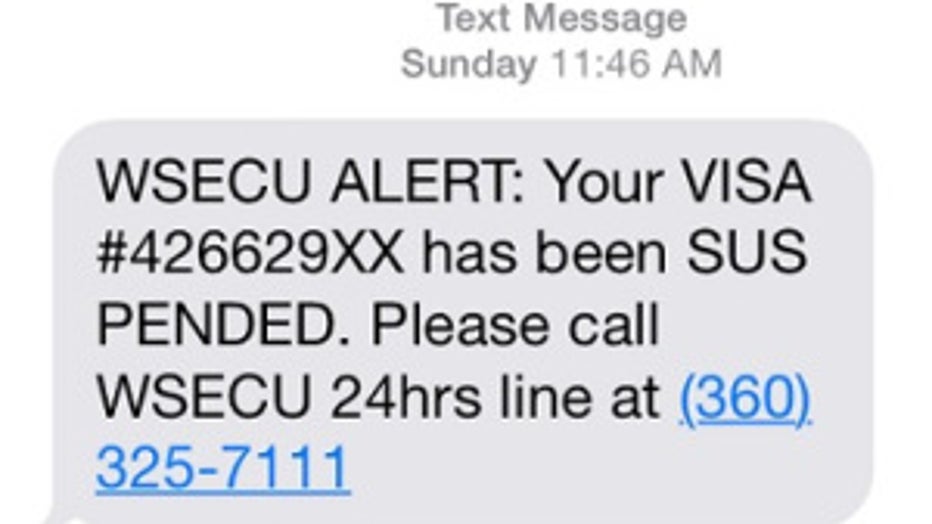 An example of the text message that has been sent out by scammers, appearing to be from WSECU.


The credit union's Facebook page said many people had received text messages stating that the recipient's Visa has been suspended and that they should call a number to reactivate. The text message included a 360 area code number for recipients to call.

WSECU said it appeared the scammers had used a system to generate random phone numbers, which was why non-members also received the text.

The credit union took to social media and email to alert people that the texts were fake and to not respond to them. WSECU also said that while it does occasionally contact members via text message, it never asks them to call and provide information the credit union already has on file.

WSECU posted on its Facebook page that this type of fraud often happens at night or on weekends when the credit union is closed.

Members who did respond to the text messages are being asked to call WSECU's after-hours support line at 1-866-861-5416 and request that their credit card be blocked immediately. The number is also located on the back of member credit cards.