Ukrainian soldiers that lost limbs in war fitted for prosthetics in Everett
EVERETT, Wash. - Two Ukrainian soldiers that lost their limbs in Russia's war against Ukraine are closer to gaining back more mobility thanks to the prosthetics they were fitted for in Everett. 
Petro "Peter" Shemihon was one of the soldiers participating in the program through the UkrHelp Foundation. He was cast for a prosthetic leg with the help of clinical operations director, Mike Smith, at Cornerstone Prosthetics and Orthotics.   
"Phantom pain?" Smith asked him.
"No more," said Shemihon in response.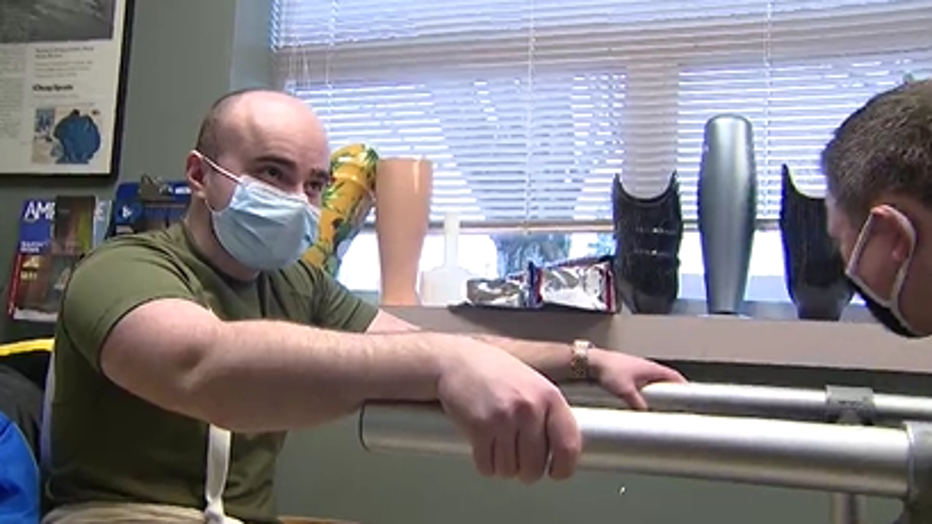 Shemihon's family said that he was the only one out of five wounded soldiers who survived an attack last August. Now, he's fighting to get some of his mobility back after losing his leg in that attack. 
"Once it sets, we can take off the cast," said Smith. "We have to make sure it's shaped and loaded just right, so it stabilizes the bone. For how short Peter's limb is, it's best to do a traditional hand cast."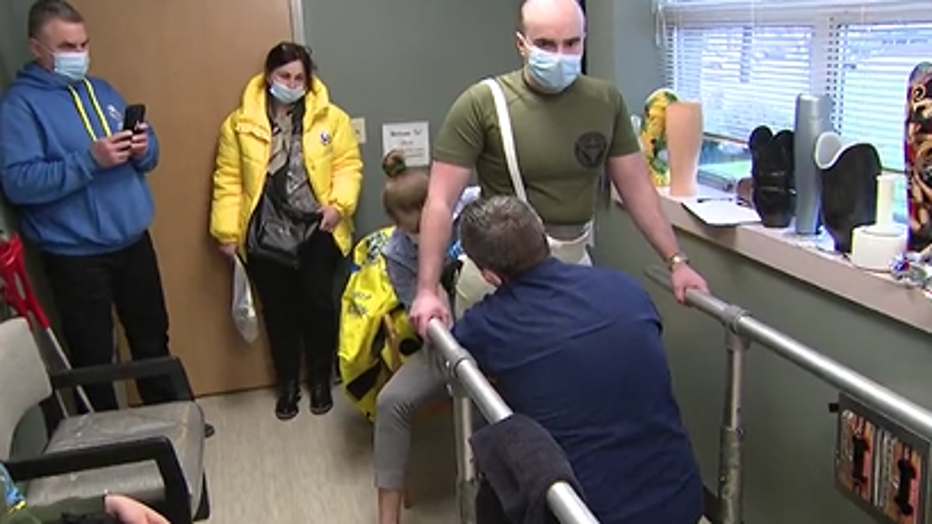 Vladyslav "Vlad" Zinkevych was being cast for an arm on Monday through the program as well.    
Zinkevych said he was injured by artillery during an early morning attack in 2022. He spoke with the help of lead volunteer and translator, Yuliia Matvieieva, on Monday.   
"He didn't hear it, and he lost consciousness as soon as it happened," said Matvieieva.  "Everyone was thinking he was dead because of how many injuries he got." 
Matvieieva said the helmet he was wearing saved his life because he had head injuries that could have been much worse. 
"Despite his leg being injured, the doctors were able to put it together. But, they weren't able to do anything with the arm," Matvieieva said.  
Zinkevych tries to remain positive, despite the circumstances.  
"He jokes when he was over in the hospital, he was telling the nurse, 'Give me my arm. Give me my arm back,'" said Matvieieva.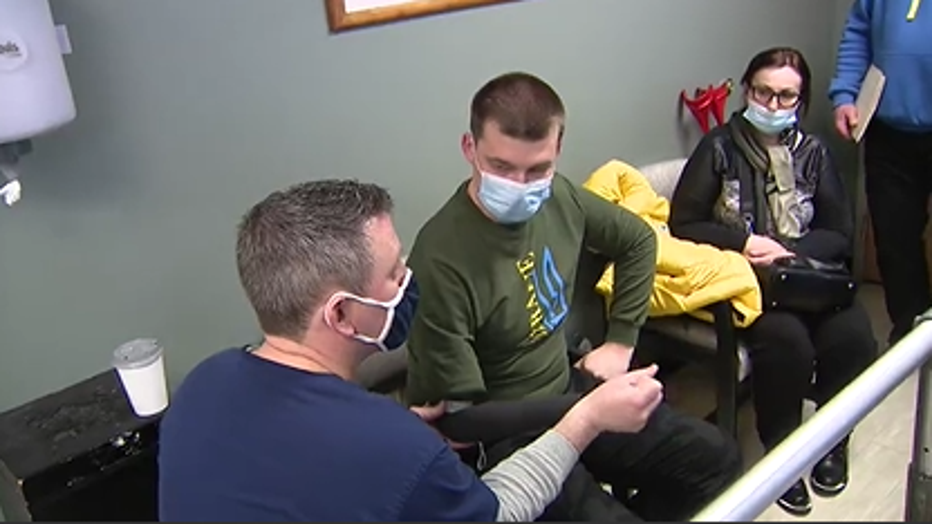 The UkrHelp Foundation helped to arrange the medical care for the soldiers.
Foundation founder Alex Dudko said he started the prosthetics program to help the wounded from Ukraine because the need is so great.  
"We have 17,000 people who need support, who need prosthetics," said Dudko. "Ukraine doesn't have the opportunity to do it. They don't have doctors. They don't have materials. They don't have anything."  
Smith explained why he decided to join the efforts to help the wounded soldiers. 
"I met Alex about three to four months ago and his story spoke to me personally because I'm a former Navy Corpsman who helped Marines during the conflicts of Iraq," said Smith.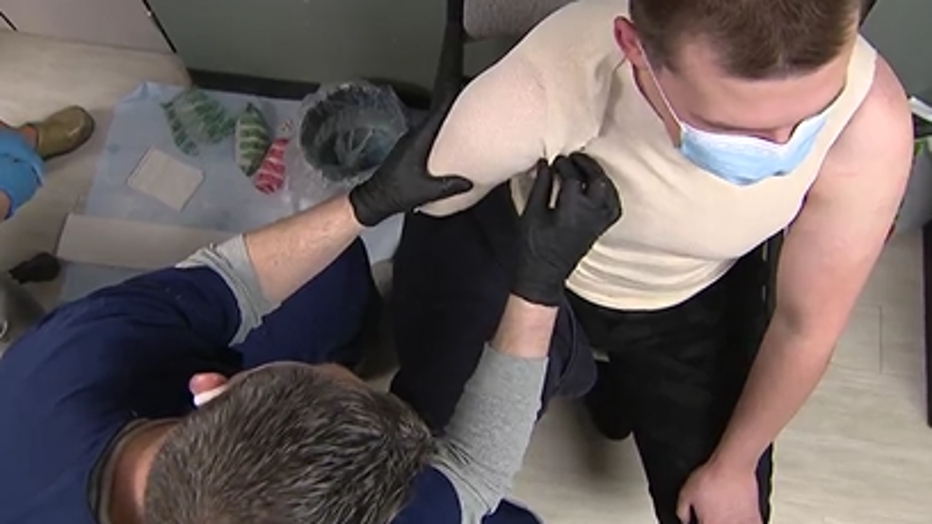 Zinkevych said he would eventually like to return to the armed forces of Ukraine. 
"His wife and his mom are serving, so he has multiple reasons to come back to Ukraine," said Matvieieva.      
Smith said it's possible with the right prosthetic. 
"These are very durable. You can just pop, rotate any direction," said Smith, showing him a prosthetic with a hook. "I think it will give him the best chance."  
He also hopes that Shemihon will be walking by next Wednesday.  
"With enough determination, anyone can accomplish almost anything," said Smith.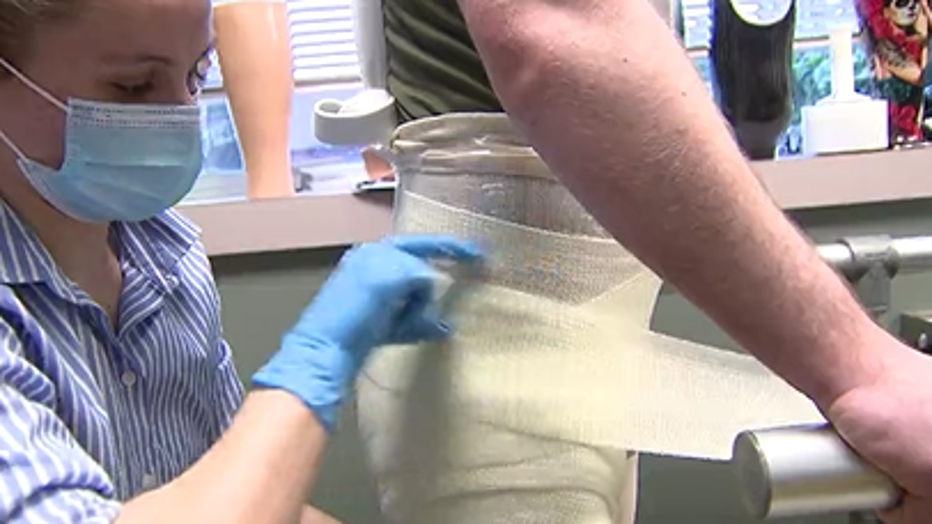 Smith said Zinkevych's prosthetic training will take more time. The men are scheduled to remain in Seattle for about a month as they continue to work with the new prosthetics and undergo physical therapy. In the meantime, Zinkevych feels fortunate he's made it this far. 
"He saw how many soldiers there who lost all their limbs, or who were in worse condition," said Matvieieva. "So, he feels lucky he's alive, and it's just one arm." 
The UkrHelp Foundation will be raising money in the coming weeks for its prosthetics program and for a program that helps Ukrainian children that have been orphaned during the war. The foundation's next fundraiser is a benefit concert scheduled for March 30 at the Hyatt in Renton. 
"Thank you to all Americans who support Ukraine," said Dudko.  
He also thanked the Honorary Consulate of Ukraine in Seattle for supporting the foundation's efforts.