King County father charged with murder in horrific death of 8-year-old child
KING COUNTY - A King County father has been arrested on murder charges in the death of his 8-year-old child following a "domestic disturbance" on Feb. 9.
On that day, just before 8 a.m., deputies were called to a home in the English Hill community of unincorporated King County, just east of Redmond, for reports of a "domestic disturbance."
When deputies entered the home, they saw an 8-year-old child dead and their 37-year-old father, Omid Mola, injured with self-inflicted injuries. Mola was taken to the hospital for his injuries and survived.
According to court documents, Mola intentionally waited until the end of the victim's mother's shift to slash the throat of his child.
The child attempted to call his mother before he was killed and before the phone disconnected, Mola told the child's mother that he would "see her in the afterlife" and admitted to slashing the child's throat. 
Court documents say the father didn't appear to try any lifesaving measures on the child.
Court documents also say that Mola didn't have any known criminal history, but his bail was set at $5 million because he was deemed a risk to the community and a flight risk. 
Mola's wife said that he didn't have any history of violence in the family, but said that he was suffering "manic episodes" over the past year. She described these episodes as several days long and during that time, he would research spiritual issues and listen to audiobooks on philosophy. She said she was not aware that he had sought help for these issues, according to court documents.
Several days after, when Mola came-to at the hospital, deputies asked if he was able to explain why he did it, and he replied with "I lost my mind," after a long pause, according to court documents.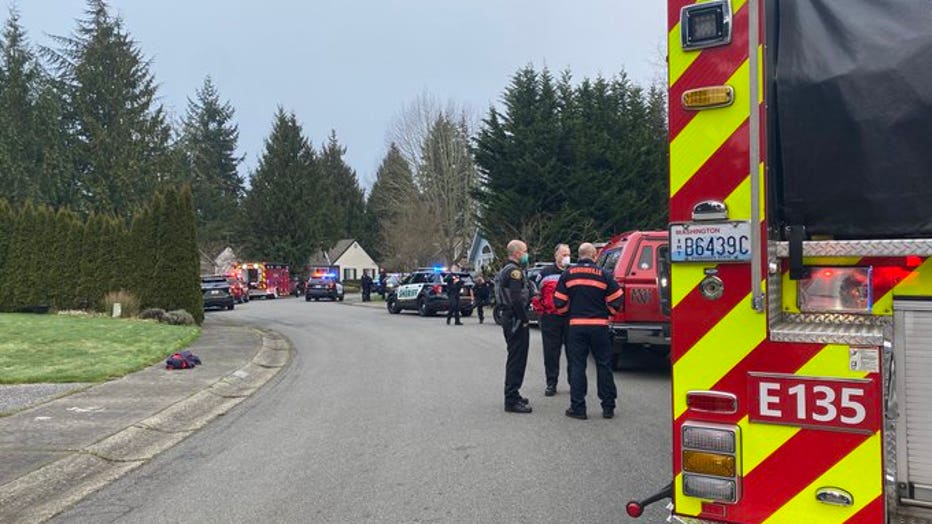 Domestic violence homicide in Woodinville (Photo credit: Woodinville Fire)
Neighbors expressed dismay about the violence occurring nearby, saying the community was normally quiet and peaceful. 
"It doesn't happen here," neighbor Nancy King said. "It's just super unusual."
The King County Medical Examiner's office arrived to the neighborhood late Tuesday afternoon.
Additional updates may be available as the King County Sheriff's Office continues its investigation.