Woman walks into medical clinic with stomach cramps, walks out with life-changing surprise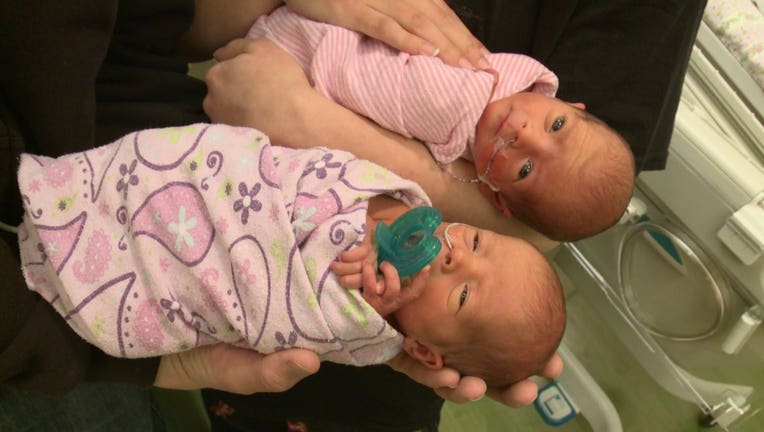 ANKENY, Iowa — A woman in Iowa says she walked into a medical clinic with odd stomach cramps only to be told something that completely shocked her, she was 6-months pregnant with twins.

WHO-TV reported Shelby Magnani raced to the emergency room for an ultrasound where the news was confirmed.

Her finance James Croskey says he was shocked to hear the news.

"It`s pretty nuts, still sinking in."

Also sinking in, the twins already beat some very long odds.

"About one to two percent of all pregnancies are twins but even rarer than that is monoamniotic twins. They have one placenta and one amniotic sac and both of those twins share the placenta as well as the sac," says Dr. Jennifer Krupp with Perinatal Center of Iowa.

Dr. Krupp says less than one percent of all twins are monoamniotic and those babies face serious complications including a fifty-percent survival rate.

"The entanglement of the cords is what we worry about. We bring the patients into the hospital at 24 to 26 weeks, so we can monitor the babies several times a day, because we know the risk of one or both of those babies dying is fairly significant," says Dr. Krupp.

Magnani and Croskey realize how different things could have turned out.

"I`m still trying to process.  It`s crazy how high risk mono-mono twins can be, and how good they`re doing now, it`s really a blessing," says Magnani.

Ava and Anna were delivered by C-section on Thursday weighing just four and three pounds each.

The girls will spend the next several weeks in the NICU at Mercy but other than some monitoring are expected to be okay.

"They`re both just little miracles, it could have been so many things that went wrong that didn't," says Magnani.

Magnani and Croskey missed out on the worst part of having monamniotic twins, the worry. Now they can just focus on the best part, being parents to two beautiful little girls.

"I love them, I love them more than anything," says Croskey.

Doctors expect Anna and Ava to be able to go home in a couple weeks.