Seattle Police officer hits, kills 23-year-old woman while responding to call
SEATTLE - A 23-year-old woman was hit and killed by a Seattle Police patrol car Monday night in South Lake Union.
The crash happened at the intersection of Dexter Avenue North and Thomas street, which is a few blocks away from the Space Needle.
SPD says the officer, who has about three years of experience with the department, was heading north on Dexter when he hit 23-year-old Jaahnavi Kandula. The pedestrian was crossing the street from east to west.
The intersection has crosswalks, with crosswalk signs.
According to Seattle's website, the speed limit is 25 mph on Dexter Avenue North and 20 mph on Thomas Street.
Seattle Police say the officer was responding to a "priority one" call. Priority one calls are defined by an immediate threat to life.
Seattle Fire were also responding to the call, SPD said.
According to Seattle Fire, the call was for a 28-year-old who need an aid response. Officials with SFD say responders evaluated the patient, but he did not want to be transported to the hospital.
Due to patient privacy, SFD said they can't provide further details about the call.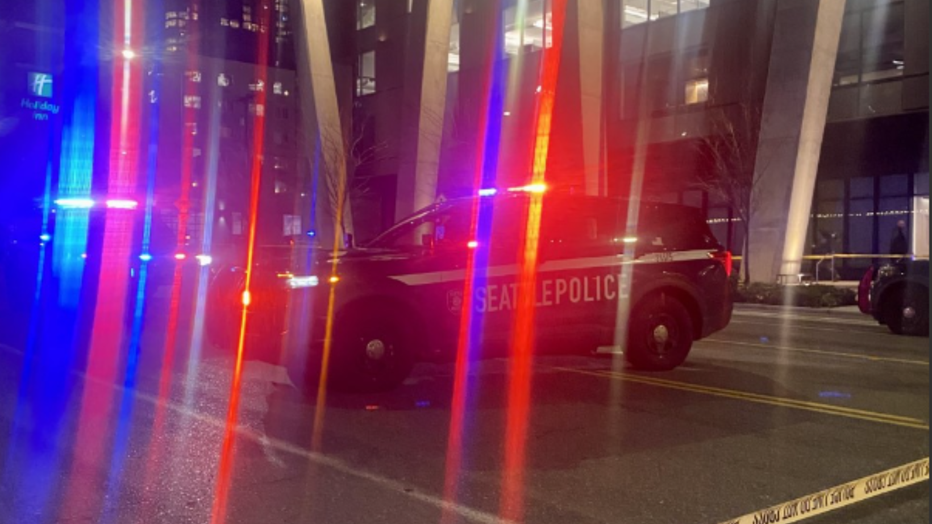 (Seattle Police Department)
The aid call location was at the 700 block of 6th Avenue North, which is about half a mile away from where the crash happened.
More officers arrived and gave medical treatment, then Seattle firefighters took over and transported her to the hospital with life-threatening injuries.
Seattle Police announced just before 2 p.m. Tuesday the woman died from her injuries.
Seattle Police's own Traffic Collision Investigation Squad has taken over the investigation. There are some cases where an outside agency would be brought in to conduct the investigation. In these cases, there could be a criminal element.
On Wednesday, Seattle Mayor Bruce Harrell gave the following statement to FOX 13 News:
"This was a horrible and tragic incident. My heart goes out to the family of the young woman killed, and to all community members who share the pain of yet another shocking and agonizing traffic death.
"Our public safety strategies must include ensuring our streets and sidewalks are safe for all users. Whether a person is walking, running, rolling, or biking, no one should be at risk of death from a crash or collision. We will continue to look to the data to determine where safety investments can and should be made, including regularly reassessing ongoing and future projects like the one at Thomas Street.
"The Traffic Collision Investigation Squad is examining this event, and the information detailed in that investigation will determine next steps and help identify any changes we can make – both in our infrastructure and operationally – to ensure this kind of terrible event does not happen again." 
A GoFundMe was organized to support Kandula's family.
Police ask anyone with additional information about the incident to call the SPD's tip line at (206) 684-8923.