Woman calls 911, gets killed by Minneapolis police, source says


MINNEAPOLIS — Relatives and neighbors of an Australian woman fatally shot by Minneapolis police over the weekend demanded answers Monday about the mysterious shooting in which the meditation teacher and bride-to-be was reportedly killed by an officer who fired from the passenger seat as the woman stood outside the driver's door.

Authorities released no details about what led to the shooting of Justine Damond, whose fiance said she had called 911 to report what she believed was a sexual assault in an alley near her home.

Police said only that officers were responding to a call about a possible assault late Saturday when she was killed. There were no known witnesses other than the two officers in the squad car that showed up. A newspaper report said Damond was shot while standing alongside the car in her pajamas.

Her fiancé, Don Damond, said the family has been given almost no additional information about what happened after police arrived.

"We've lost the dearest of people, and we're desperate for information," he said. "Piecing together Justine's last moments before the homicide would be a small comfort as we grieve this tragedy."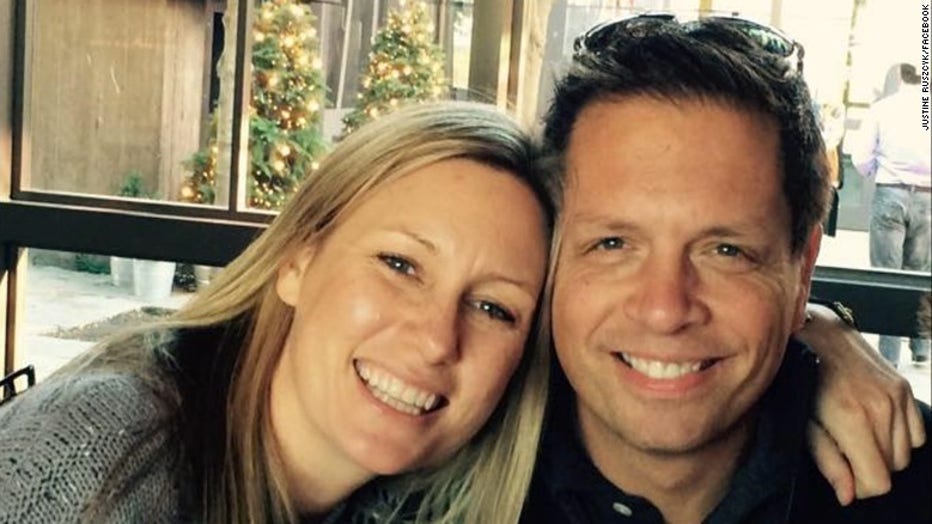 Damond's family members in Australia also released a statement Monday through Australia's Department of Foreign Affairs and Trade, saying they "are trying to come to terms with this tragedy and to understand why this has happened."

Authorities did not release the woman's name, but the Star Tribune identified her as Damond, from Sydney, Australia. The newspaper reported that she was engaged to be married in August and was using her fiance's last name. Her maiden name was Justine Ruszczyk.

Almost two days after her death, police offered no public explanation and referred questions to the state's Bureau of Criminal Apprehension, which was investigating. A Monday statement from the BCA said more information would be provided once the officers were interviewed.

The officer involved in the shooting, Mohammed Noor, on Monday extended his condolences to the family in a statement through his attorney. Noor came to the United States at a young age and is thankful to have had so many opportunities, attorney Thomas Plunkett said.

"He takes these events very seriously because, for him, being a police officer is a calling," the lawyer said in a statement. "He joined the police force to serve the community and to protect the people he serves. Officer Noor is a caring person with a family he loves and he empathizes with the loss others are experiencing."

"The current environment for police is difficult, but Officer Noor accepts this as part of his calling. We would like to say more, and will in the future," the statement said. "At this time, however, there are several investigations ongoing and Officer Noor wants to respect the privacy to the family and asks the same in return during this difficult period."

The BCA said Monday that no weapons were found at the scene.




Local media identified the officer who fired as Mohamed Noor, who is a Somali-American. A city newsletter said he joined the police department in March 2015.

His attorney, Tom Plunkett, released a statement saying Noor offered his condolences to the family "and keeps them in his daily thoughts and prayers."

The statement added: "He joined the police force to serve the community and to protect the people he serves. Officer Noor is a caring person with a family he loves, and he empathizes with the loss others are experiencing."

The Star Tribune, citing three people with knowledge of the shooting it did not name, said the officers pulled into the alley in a single squad car, and Damond talked to the driver. The newspaper's sources said the officer in the passenger seat shot Damond through the driver's-side door. A BCA spokeswoman did not return messages seeking to confirm that account.

Neighbor Joan Hargrave called the killing "an execution" and said there was no reason for a well-trained officer to see Damond as a threat.

"This is a tragedy — that someone who's asking for help would call the police and get shot by the police," Hargrave said.

Officials said the officers' body cameras were not turned on and that a squad car camera did not capture the shooting. Investigators were still trying to determine whether other video exists.

It's not clear why the officers' body cameras were not turned on. The department's policy allows for a range of situations in which officers are supposed to do so, including "any contact involving criminal activity" and before use of force. If a body camera is not turned on before use of force, it's supposed to be turned on as soon as it's safe to do so.

Once the investigation is complete, it would be up to Hennepin County Attorney Mike Freeman to decide whether to charge the officer.

Freeman would not comment on the broader case Monday, but said both officers likely should have turned on their body cameras as they were approached by Damond in an alley.

Police Chief Janee Harteau called the killing a "tragic death" and said she understands why the community has questions. "I've asked for the investigation to be expedited to provide transparency and to answer as many questions as quickly as we can," she said.

The Fulton neighborhood where the shooting happened is a mix of middle- and upper-middle-class homes about a half-mile from city lakes that are a popular destination for residents and tourists.

Some 50 friends and neighbors gathered in a semicircle Sunday near the shooting site, with many more looking on from the sidewalk and street. Chalk hearts containing the names of some people who were victims of police violence were drawn on the driveway.

By Monday, flowers had also been left at the scene, along with a handwritten sign that asked, "Why did you shoot and kill our neighbor?"

Damond's death is yet another high-profile police shooting in the Twin Cities area in recent years. Last year, 32-year-old Philando Castile was killed by an officer during a traffic stop in a nearby suburb after he told the officer he was armed. And in November 2015, a Minneapolis police officer shot and killed Jamar Clark during a struggle in which the officer said Clark grabbed his partner's weapon.

Damond's business website indicates that she relocated to Minneapolis and worked as a yoga instructor, meditation teacher and personal health and life coach.

Originally trained as a veterinarian, Damond indicted on the site that she was "most passionate about supporting individuals and organizations to discover the power and potential within their own brains and hearts."

Damond's mother was Australian, and she spent her formative years there, but also spent some of her early childhood in the Buffalo, New York, area, said Peter Suffoletto, a cousin of Damond's father.

___

Associated Press writers Jeff Baenen, Doug Glass and Kyle Potter contributed to this report from Minneapolis. AP researcher Rhonda Shafner contributed from New York.