Woman accused of intentionally driving car into 2 teens is charged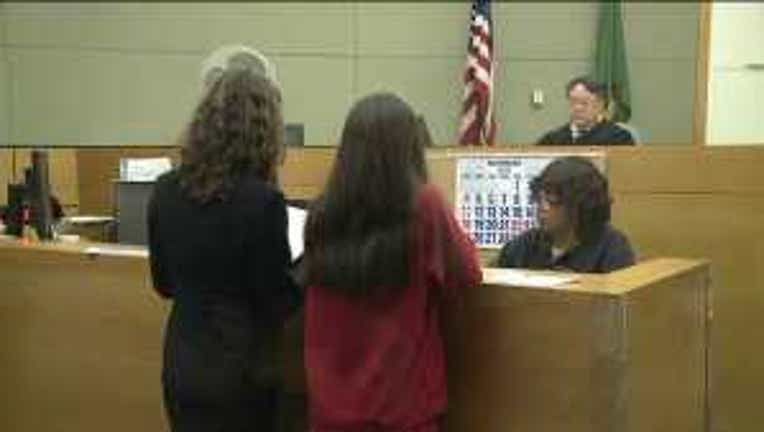 SEATTLE -- The 37-year-old woman accused of intentionally ramming her car into two Chief Sealth International High School students was charged Tuesday with two counts of second-degree assault and one count of felony hit-and-run. She was freed from King County Jail on "conditional release" after posting bail.

Arraignment for the defendant, identified as Amy Lynn O'Brien, is set for Dec. 17.

O'Brien had made her first court appearance last Friday while one of the victims, 18-year-old Cassandra Goodwin, was still fighting to recover in Harborview Medical Center.

"She's hooked up to a ventilator. She has a neck brace on. Her face is scraped up. I cannot even see who she is; that is not my Cassandra," said Goodwin's aunt Ashley Carpitcher.



Witnesses said O'Brien got upset after Goodwin tapped her dog on the head on Thistle SW near the Chief Sealth school on Nov. 28. After a fight, police say, O'Brien drove away, but returned to confront Goodwin and a 17-year-old female student.

"The defendant first chased the girls with a Taser gun allegedly, and then chased them with her car,  striking them," the prosecutor told the judge.

Chelsea White, Goodwin's friend, said, "She turned her car and pressed on the gas as hard as you can and hit them both. I ran towards her (Goodwin) and held her in my arms. She was going in and out of consciousness.  She said, 'Dont leave me.'"

The woman drove off, police said. The 17-year-old was treated at Harborview Medical Center for minor injuries and released.

O'Brien's longtime boyfriend appeared in court last Friday and pleaded with the judge to show mercy. "I know her real well, she is not a violent person at all."

The boyfriend told the court the woman is a single mother with a 7-year-old daughter.

His pleas did nothing for Goodwin's family.

"If she was a single mom, she should have thought about her baby before she ran over my niece," said Carpitcher.

"I have no mercy for her. Right now, I am thinking about the life of my baby, fighting for her life," said Goodwin's mother, Theresa Chun.

O'Brien, who turned herself into police last Thursday night, was ordered held on $250,000 bail in the King County Jail.