WMW viewer tips help lead to arrest of three suspects in downtown Seattle tourist attack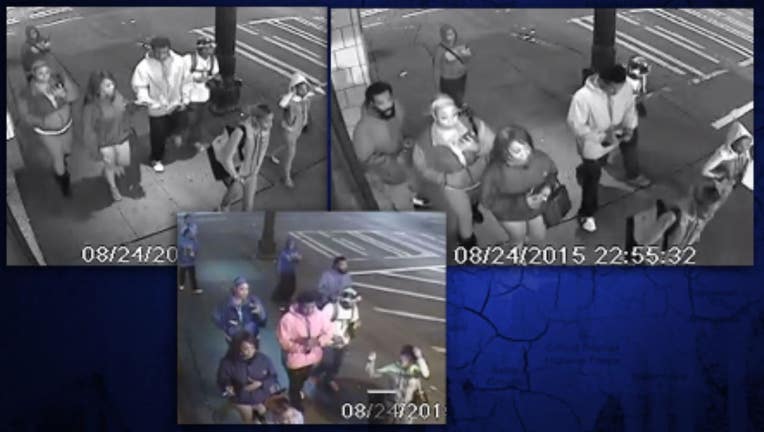 CAPTURE UPDATE September 20, 2015 --  Three suspects accused of attacking and robbing tourists in downtown Seattle have been arrested. 25 year old William Baker, 27 year old Taisha Powell and 17-year-old Romeyo Wilturner have been charged with Robbery in the First Degree. Police say Powell is the one who burned the victim with a cigarette and Baker is the one who stole her cellphone and hit the male victim in the head. All are in jail on $500,000 bail. Powell has felony convictions for illegal drugs in 2008, 2009, 2012 and 2013 as well as misdemeanor convictions for Assault 4-Domestic Violence in 2005 and False Reporting in 2013. In addition, she had pending warrants for Failure to Appear at arraignment in Drug Court and Failure to Appear in an Abandonment of a Dependent Person case from 2014. Baker has convictions for illegal drugs in 2014, eluding in 2012, Vehicle Theft and Hit and Run 2012, Robbery 2 and Residential Burglary in 2009 and Unlawful Possession of a Firearm in 2009 and 2008. "We really need to say thanks to you, the WMW viewers, for helping get these guys off the street," says Ret. Det. Myrle Carner with Crime Stoppers of Puget Sound. "This was a vicious tourist attack. People visiting our city, we`re supposed to be putting on our best foot forward, so to speak, but in this case had a serious assault, multiple suspects, victims went to the hospital. We showed the case on Washington`s Most Wanted and within a very short period of time tips started flooding in, you sent us a lot of things on Facebook, you sent us calls to our hotline and thanks to you three of the suspects have been charged with first degree robbery. There`s additional charges pending on another suspect that we`re looking for, but we have all the information we need on this case now and it wouldn't have happened if you didn't dial the 1-800-222-TIPS line and for that I want to say, 'Thanks!'" WANTED IN SEATTLE Sept. 3, 2015 -- Two of three tourists attacked and robbed at 3rd and Pine in downtown Seattle last month talked about their ordeal. Sandra and Brett, who live in Rhode Island, spoke by Skype Thursday night about the attack and robbery that occurred Aug. 24. Police say the trio was walking out of the bus tunnel when a woman accused one of them of bumping into her. "Yeah, I apologized like multiple times and at that point one of the girls that was standing in front of me, she tried to burn me with her cigarette," Sandra said. Brett says he was then hit in the back of the head with a bottle, and their other friend was hurt worse. "Really unfortunate and kind of alarming that when she tried to get between me and my attackers, a young man said she was a fool and punched her right in the face," Brett said.
And one of group grabbed Sandra's phone out of her hand. "So I yelled at the guy, give me back my phone and then I got punched in the face by multiple people," she said. Brett said one of the attackers acted like he was going for a gun and threatened to shoot him. "It was that intensity and willingness to hurt, and I saw a very much a lack of remorse or of empathy," he said. So far, Seattle police have arrested one of the suspected attackers -- a 17-year-old -- and are trying to identify the rest of them. "I have to say, my first experience in Seattle was not good," Sandra said. If you recognize any of the suspected attackers in the video and photos, call an anonymous tip into: CRIME STOPPERS: 1-800-222-TIPS You must call the Crime Stoppers hotline with your tip to be eligible to receive a cash reward for information leading to a fugitive's arrest. CLICK HERE for information on how to TEXT A TIP to Crime Stoppers.