WMW viewer tips help identify, lead to arrests of accused armed Snohomish County pot shop robbers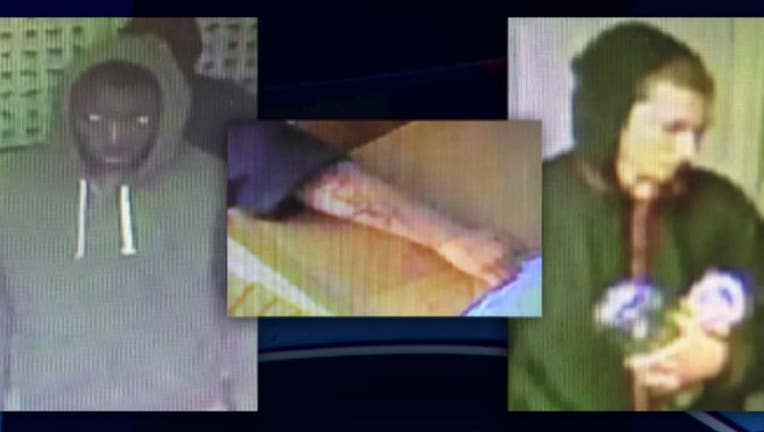 CAPTURE UPDATE October 21, 2015 -- Snohomish County detectives have arrested two suspects in the takeover armed robbery on Sept. 28th at the Patient Care 99 medical dispensary south of Everett. Both were seen on surveillance video terrorizing the clerk at gunpoint. 18-year-old Bradford Johnson who also goes by 'Brad Winner' and 'New York Brad' was arrested Tuesday afternoon by Det. David Fontenot. The Snohomish County Violent Crimes Task Force arrested the other suspect on Oct. 2nd. The 16-year-old has been charged with Robbery 1st Degree. Detectives say tips from viewers who saw the video on Washington's Most Wanted helped identify both suspects. The two are accused of stealing between $6,000 and 10,000 in cash as well as mason jars full of marijuana.  "Further concerning is the fact Johnson was armed with a firearm during the event that has not been recovered.  During the course of this robbery, Johnson made loud threats to harm while directly pointing a firearm at the victim and demanding cash and marijuana," wrote Det. Fontenot in his court filing. Johnson is a suspect in another Robbery 1st Degree in which a victim was shot during an illegal marijuana transaction. Court records show he also has a protection order against him as well as a sexual assault protection order.
FUGITIVES WANTED IN KING COUNTY September 29, 2015 -- A pair of robbers terrorized a medical marijuana store employee holding him at gunpoint. The crooks made off with thousands of dollars in cash and merchandise. It happened at the Patient Care 99 medical dispensary along Highway 99 south of Everett Tuesday evening. Nickolaii Matveev was the only employee working at the time. The crooks struck only a few minutes before closing time. "It's really hard to actually be here right now," he said. At first the crooks were polite, waiting their turn in the lobby, but then one of them pulled a gun. "The black guy came in with the gun told me to give me everything," Matveev said. In a flash, the gunman pushed Nickolaii to the floor while the other robber searched the office. Once they found a box the crooks helped themselves to high-grade, medical pot. "He put the gun to my head and told me if I moved that I'd blow your head off," said Matveev. Once their boxes were full the thieves took off and Nickolaii called the cops.  Canine officers lost their tracks but cops recovered some of the stolen loot. Employees are still shaken up. "Sheer terror, I was scared," said Matveev. "I didn't know what to do or say." "No one should have to go through that," said employee Christopher Vincent. "It was a really traumatic experience." The suspects didn't bother hiding their faces – or their tattoos. The store's owner hopes someone knows who these crooks are and turns them in to police. "It's very upsetting. I feel very violated," said owner Ryan Johnson. The thieves also stole all the money out of Nickolaii's tip jar. Cops have a copy of the surveillance video and detectives are investigating. Johnson is offering a $1,000 reward for information that ends in an arrest; call the Snohomish County Sheriff's Office with any leads.