WMW viewer tip leads to arrest of one of two Skyway burglary suspects who shot at deputy
BURIEN --  Detectives arrested Cobbe Weston in Burien at S. 128th Street and 8th Ave in the Boulevard Park on Tuesday. "Thanks to a tip from a Washington's Most Wanted viewer, we have one of our two suspects in custody related to the burglary where one of our deputies was shot at. We still have one outstanding and we're hoping to get more tips to get this second guy in custody," said King County Sgt. Cindi West.   Weston has been booked into the King County jail and is being held without bail.  He is Washington's Most Wanted capture #848.

The other suspect, Luther Dandre Jenkins, is still on the run.  If you know where he is, submit a tip to Crime Stoppers via the P3 Tips App on your phone or call 1-800-222-TIPS.




SKYWAY, Wash -- King County Sheriff's detectives are asking for the public's help to find two burglary suspects after they say one of them shot at a deputy in Skyway around 11 p.m. Tuesday.

"The homeowner wasn't home but had a good surveillance system and was actually watching the suspects break into the house on his phone," said King County Sgt. Cindi West.

That homeowner called 911 as he watched the two suspects identified by investigators as Cobbe Rian Weston and Luther Dandre Jenkins burglarizing his house. Deputies responded and a chase ensued. At one point, detectives say one of the suspects turned and fired a shot from 15 feet away but missed.

"The deputy said in his report that he was shocked that he didn't get hit. He said he was standing 5 to 6 yards from our suspects when he pulled the trigger. He said he saw the muzzle flash, heard the shot, smelled the gunpowder and he couldn't believe that he wasn't hit," said Sgt. West.

Both suspects escaped.

"These guys are bad guys. They both are on Department of Corrections supervision for the same types of burglaries and we want to get them off the streets," said Sgt. West.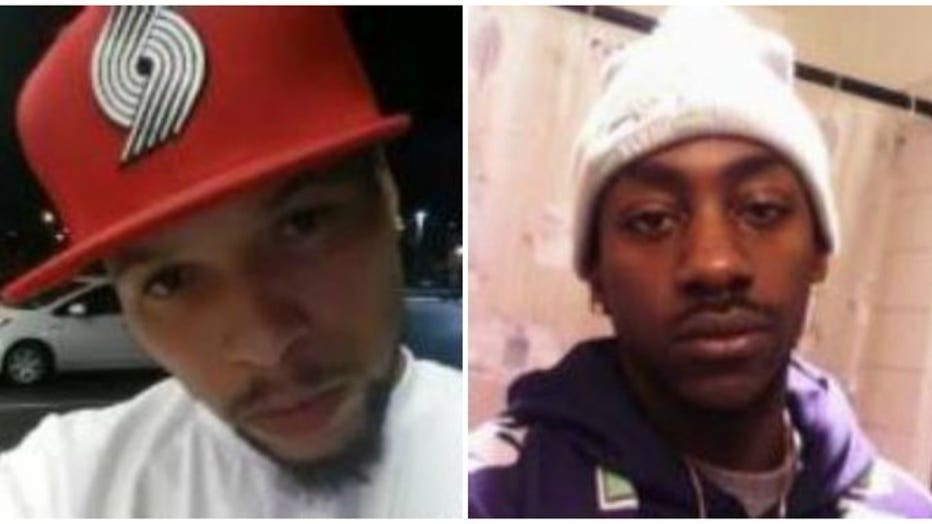 Cobbe Rian Weston on left and Luther Dandre Jenkins right wanted by King County Sheriff's deputies


Weston is 5'06", 155 lbs and was last known to be living in Edmonds. Jenkins who has several warrants for his arrest is 5'09", 170 lbs. He was last known to be living in Kent.

If you can tell King County Sheriff's detectives where to find either of the suspects, Crime Stoppers of Puget Sound will pay you a cash reward of up to $1,000 per suspect. Submit your tip via the P3 Tips App on your smart phone or call the hotline at 1-800-222-TIPS (8477). You will remain anonymous.