Winter storm slams the NW
SEATTLE- A strong cold front moving across Western Washington is bringing heavy rain and snarling the Thursday morning commute. With standing water on the roadways and "rooster tails" coming off the back of cars on the roads and highways, Q13 Traffic Anchor  Adam Gehrke says this is the worst commute of the month so far. The excessive amounts of rainfall has caused a landslide that currently is blocking US 12 near Porter Creek in Grays Harbor County.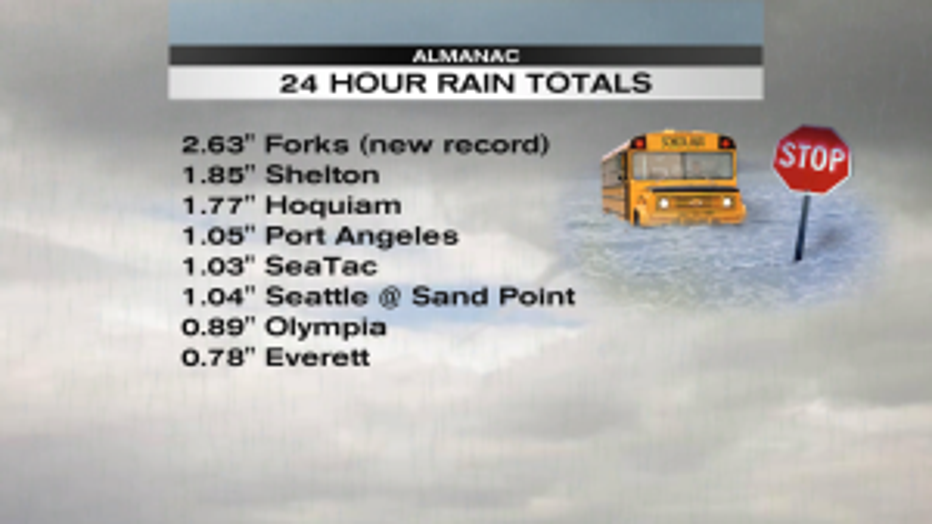 24 hour rain totals ending 4am Thursday Source: NWS Seattle


For the 24 hour period ending at 4am Thursday, we saw a massive amount of rain in Western Washington. Record rainfall in the Forks area on the north Washington coast. 2. 63" of rain reported at the weather station there. While it wasn't record-breaking, many other places saw more than an inch of rain in the last 24 hours: Shelton, Hoquiam, Port Angeles, SeaTac Int'l Airport and Seattle at the National Weather Service offices in Sand Point.

The front that stretches from British Columbia thousands of miles into the tropical Pacific Ocean waters further west than the Hawaiian Islands. That means this atmospheric river is delivering both water and warmth. This is why yesterday was so unseasonably mild across the Northwest. These events are called "atmospheric rivers" or a "pineapple express" since the moisture comes from near Hawaii. The warm rain can often melt Cascade snow and cause rapid rises to our rivers, creeks and streams. The National Weather Service has issued a flood watch for Whatcom, Skagit, Snohomish, Clallam and Grays Harbor counties until this evening.  It's never a good idea to drive across a flooded road.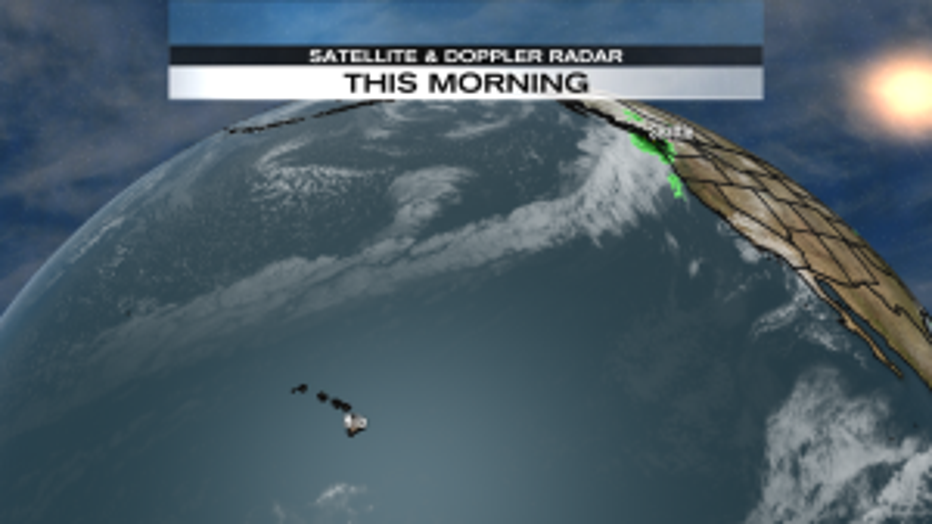 The front extended from the NW to the tropical waters of the Pacific Ocean.


Yesterday brought record breaking warmth to Bellingham. 61 degrees on the Western Washington University campus is certainly atypical for late January. None of the students there were likely even alive when the old record record of was 58 set back in 1986. The 58 degree temperature reading at SeaTac tied the record there that was set back in 1958. The only other Washington city breaking a temperature record was Quillayute with a high yesterday of 56.

In Oregon, the a new record high yesterday was set in Salem with a reading of 62.  Many other cities in Oregon also were incredibly mild but didn't break records: Newport (63), Eugene (65) and Roseburg (68).

Q13 Lead Morning Meteorologist MJ McDermott says the mild temps wont much longer. "The high today was likely set at 3 in the morning when it was 56 degrees. We'll be near 50 around noon and in the 40s by dinnertime." The normal high for this part of January is 48 around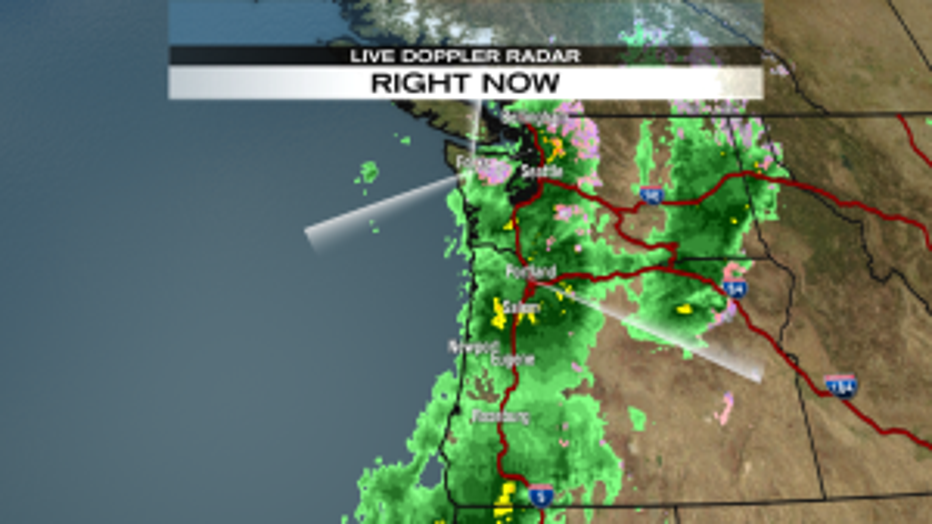 Radar sweeps picking up lots more rain in store for the NW this morning.


Puget Sound.  More rain is still ahead says McDermott, "We can already see the back edge of this system on the radar near Forks. But everyone is really getting a soaking around Puget Sound this morning."

And while tonight's commute might be less troublesome than what we experienced this morning, another round of heavy rain is expected to arrive just in time for the Friday morning drive.