WINTER BLAST: Freezing temps, plus more rain, snow, whipping winds headed our way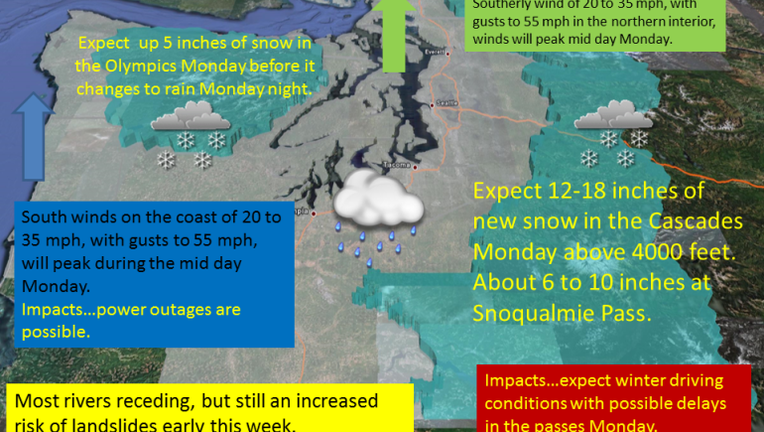 SEATTLE -- Brace yourselves, Western Washington.

It's been raining for days, even snowing in the mountains and parts of the lowlands.

And Chief Meteorologist Walter Kelley says another major storm is headed straight for us starting late Monday, bringing  more rain, snow and high winds -- gusting up to 75 mph for some areas on Tuesday.

Forecasters say the high winds combined with saturated soil brings an increased chance of falling trees and landslides.

The National Weather Service has issued various flood watches, winter storm warnings and high wind watches for the region.

Plan for winter driving and possible delays on the Cascade mountain passes on Monday as more than a foot of new snow is expected above 4,000 feet, and 6 to 10" at Snoqualmie Pass.



Here's Walter's forecast breakdown:

Giant storms aimed right at us!!! Major weather heads in Monday and Tuesday.

Monday morning will be very chilly with lows near freezing. There could be some icy roads for the early commuters. Ice scrapers needed. There will even be a few snow showers on the higher hills.

Monday will be windy for all with gusts up to 45mph again. It will be rainy but Seattle gets the least amount. The mountains will get tons of snow and even Snoqualmie Pass gets a quick 6 inches midday.

Tuesday's storm will be very big with high winds for all. Some will get gusts to 75mph. This with saturated soils could bring down a lot of trees.

Seattle will get some gusts to 50mph but the strongest winds will be north of Seattle.

The South Sound will be very windy too with gusts up to 60mph.

Tuesday will be very wet for all and this will bring renewed river flooding by Tuesday night into Wednesday. Seattle gets the least amount of rain but I'd expect urban flooding Tuesday night into Wednesday.

Later in the week it will be less stormy but we are still wet and windy through Friday. Snow level is very low at about 1000 feet through Monday so foothill locations will see SNOW Monday.

Tuesday the snow level jumps to 6000 feet but falls again Tuesday night into Wednesday. Batten down the hatches we are in for some stormy weather.

Check the latest sever weather alerts for your county >>

November is our wettest month of the year, and as of Nov. 15th, we have already seen more than twice the 'normal' amount of rainfall.

This comes after several days of rain caused big ocean swells and inland flooding.

OverSkagit.com shared aerial video with Q13 FOX of a washed out Francis Road near Clear Lake.




Dozens of viewers posted photos and videos of snow in the lowlands early Sunday morning, mainly in south King and Pierce Counties.




Share your weather photos with us using #Q13FOX on Facebook, Twitter, Instagram and Snapchat (add: q13foxnews).