Windstorm causes havoc, power outages and injuries across Puget Sound
SEATTLE - Western Washington got a beating Saturday.  Powerful winds ripped through the area leaving about 200,000 customers without power at the height of the windstorm. As of 10 p.m. tens of thousands of customers were still in the dark and the cleanup was massive. Puget Sound Energy says Saturday's storm was the worst to date this year.

In Sammamish residents in the Tree Farm neighborhood heard a big thump when a huge tree fell on some power lines on NE 8th Street.

"I heard a huge thump and all the power went out it was kind of freaky," said one Sammamish resident.

It wasn't a hurricane but at times it sounded like one. Ferries nauseously bobbed up and down, birds got a workout and people took a moment to take it all in Mukilteo.

That was all tame compared to the 520 bridge where drivers ran for safety this morning.

People were terrified as Lake Washington crashed from both sides. State troopers were in disbelief when about 50 drivers took off on foot abandoning their cars on the bridge.

"I've been on 22 years I don't think I've been in this situation yet," said trooper Chris Webb.

The bridge reopened after a two hour shut down.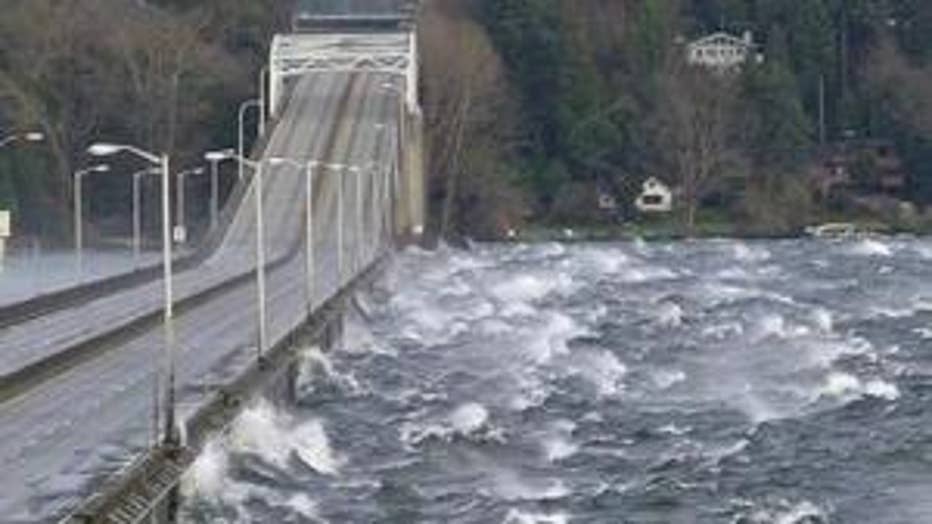 Also a situation no one wants to be under is being trapped under a tree. A Granite Falls man was seriously injured in Monroe when a giant tree fell onto his Mustang. In Tacoma a minivan was paralyzed by a spider web of branches. Meanwhile one Snohomish family had more than trees to worry about.

"We ran out and sure enough our truck was buried," said Donna Vandemoere.

Their vehicle got trapped under steel and wood forcing construction workers to start all over in the town of Snohomish.

It was more than 50 mile per hour winds in most parts of Western Washington, Alki Beach at one point came in at a whopping 61.

As day turned to night, the wind died down. But the mess left behind was massive.

Fallen leaves littered King County and many were still in pitch black Saturday night.

PSE said it could take until Monday to get all the power restored. Crews worked for more than 10 hours on NE 8 St to get the power lines back up and running for residents in the Tree Farm neighborhood. Crews had about 1000 different sites to troubleshoot on Saturday. As for the latest on the injuries Seattle Fire says a 2 year-old boy was also injured in the University District Saturday morning when a tree branch fell on him.