Will we see any sunbreaks this weekend?


SEATTLE -- Friday looking like a pretty nice day out there. Not nearly as the soggy as the 1/2 of rain we got yesteday at SeaTac with some pretty blustery winds. Today, lots of breaks in the cloud deck this morning. These breaks might fill in with more cloud cover later this afternoon with the introduction of normal daytime heating and a pretty good shot at some showers. The system delivering these showers is headed into southern Oregon and northern California. So, the further north you are the fewer showers I think you'll get this afternoon. Highs today will be still a bit cooler than normal. Mid 50s expected for later today.

TONIGHT we'll see a chance of showers. Areas that see the nearly new moon will be chilly in the overnight hours with temps dropping into the upper 30s. If you have more clouds, expect a few degrees warmer in the low 40s.

SATURDAY might start out dry, but it doesn't end up that way. Another round of rain looks to move in by the afternoon. Could see a few heavy bands of rain move through in the evening hours. Highs still chilly and in the 50s.

SUNDAY looks to have numerous showers with temps still in the 50s. Not much for sunbreaks.

NEXT WEEK looks significantly more pleasant. The forecast models look to be in agreement that we dry out and warm things up. Not just a little, more like about ten degrees above normal kind of mild temperatures. Mid-week could see some of the warmest temperatures in many NW cities. Portland could hit 80 for the first time in 2014. Seattle could get into the mid 70s. The warmest Seattle has been so far this year was 70 degrees on April 7th. The normal high temperature for this part of April is 60.

Find those sunglasses and sunscreen now, looks like you'll need both very soon.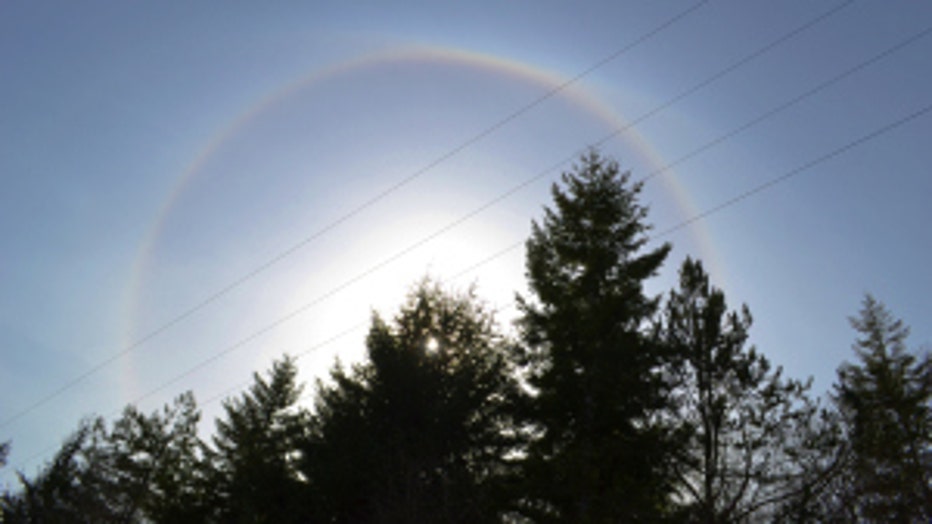 Sun halo along the coast. Viewer photo from Roger in Humptulips.