Wild ride: 14-year-old boy arrested for suspicion of DUI after chase


[trib_ndn vid=24927027]

BELLINGHAM -- This is how it all ended, in the Larkin Place Apartments' parking lot. Five cars were damaged, including a red Pontiac driven by a 14-year-old boy.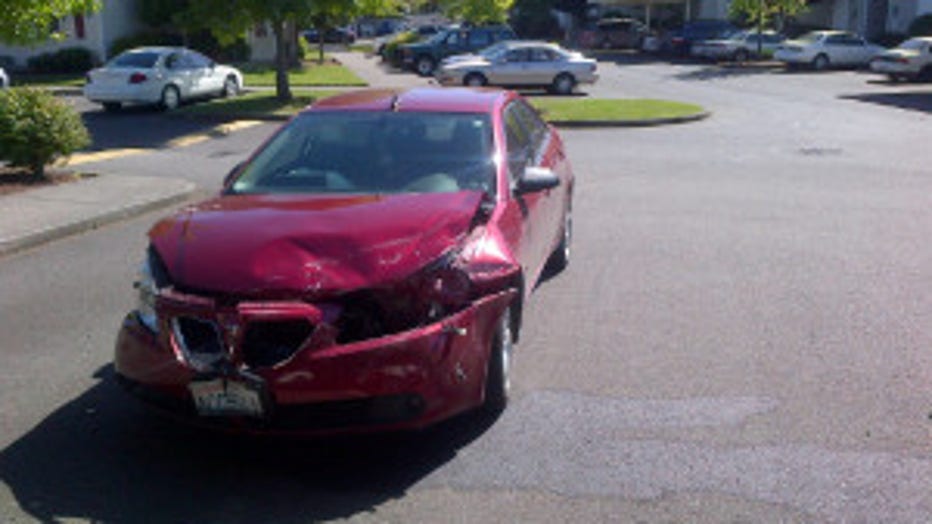 "Hit a Honda Civic first, then hit a Nissan Altima, which pushed it into a Honda Accord, which were owned by the same owner ... pinballed off of that one, traveled 50, 75 feet and hit a Buick Enclave SUV," Washington State Patrol trooper Keith Leary said.

That Buick belongs to Patrick McCrystal.

He just finished moving into his apartment on Monday and now has to deal with this.

"I'm from Ohio and so my insurance company is from Ohio and they have to find someone that they know out here and it might be a little difficult," McCrystal said.

A trooper first spotted the boy at 6:40 a.m. Wednesday on Guide Meridian near Bellis Fair Mall. He knew right away something was wrong.

"He sees this car with lane travel violations, swerving back and forth," Leary said. "It's a 50 mph zone there and the car was only doing about 30 mph."

When the trooper turned on flashing lights, he said, the boy sped up.

The chase lasted less than a mile and ended at Larkin Place.

The commotion woke Mitchell Wilkerson from a sound sleep.

"I saw a state trooper holding four kids at gunpoint," Wilkerson said.

The 14-year-old driver, two 12-year-old boys, a 15-year-old boy and a 53-year-old man were in the car, according to investigators, and all in varying stages of inebriation.

"If they were here two hours later, they could have killed somebody because the kids come out and walk on the streets and we had a lemonade stand, local kids were having a lemonade stand.  If they had taken a right instead of a left, they could have just killed all four of them," Wilkerson said.

Two of the boys were taken to the hospital for alcohol observation and police are still trying to determine who the man is and why he was in the car.

Just a few of the questions that have to be answered in this investigation:

"How they got access to the keys to the vehicle.?Where the alcohol came from? Where they were consuming that at?  Those are all things we'll be looking at," Leary said.

The good news is no one was hurt.

"We tell adults not to get behind the wheel if you've had anything to drink.  It's the safest thing, and now we have a 14-year-old who has no experience, has drank alcohol, is possibly impaired, driving a motor vehicle and runs from the police.  That's a recipe for disaster," Leary said.

Investigators said the boy took the car he was driving from his grandmother without her permission.

He's expected to face charges for that, for DUI and for eluding police.

As for the man, he claims to be an uncle.

Investigators will check on that and whether he provided the alcohol to the boys.

If so, he could face charges as well.