Why is this mountain of apples rotting away in eastern Washington?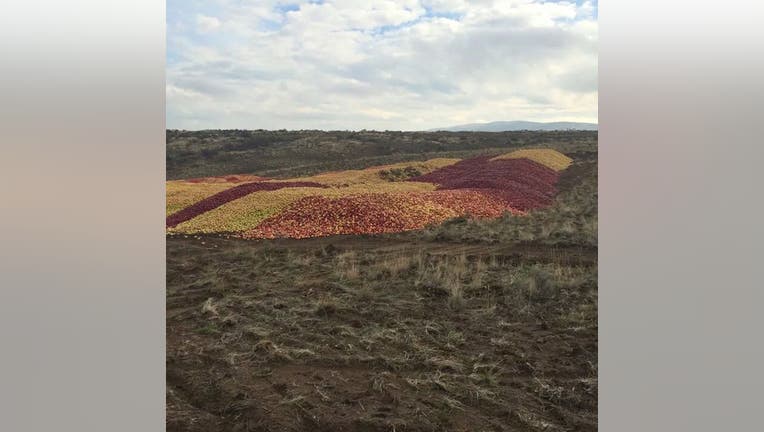 SEATTLE -- Distributors say the backup at the Port of Seattle and the Port of Tacoma are causing an economic mess for Washington.

When you are in the business of exporting goods overseas, time is money.

"If the products don't get there to market for the holiday season the sale won't be replaced," F.C Bloxom Company co-owner Bill Bloxom said.

Bloxom buys everything from apples to onions from Washington growers and ships them through the ports to other countries.

"This has been the worst year in my career," employee Cecilia Rojas said.

Exporters are blaming the port slowdown for the mountain of apples rotting away in the fields of Eastern Washington.

If they are not being left to rot, they end up sitting inside shipment containers going nowhere.

"We've got a pier that's moving three containers an hour and we know they can move up to 20 safely," Bloxom said.

The Longshoremen Workers Union is still in contract talks with Pacific Maritime Association which represents all the West Coast port operators. PMA says union workers are slowing down deliberately.

"These slowdown tactics are part of the ILWU playbook and they are simply done to influence negotiations," PMA spokesperson Steve Getzug said.




The union denies a deliberate slow down saying the problem is a sharp increase in volumes of shipment and a shortage of chassis and other equipment.

"Those jobs used to be on the docks, they used to be good paying jobs $25 to $35 an hour and now those companies are looking for cheaper ways to get that work done," ILWU spokesperson Craig Merilees said.

They have been in contract talks for months with no sign of a resolution.

"I put blame on both of them they are tying up a port that's a public resource," Bloxom said.

So far they've missed out on shipping 50 containers of produce losing about half a million dollars in revenue.

"While it may not immediately affect the person watching the news it will ultimately result in lower economic return for the entire economy," Bloxom said.

He is now calling on the president to send in a federal mediator. Both sides are not revealing a lot about contract talks happening behind closed doors. But exporters say the union has been fighting efforts to automate for years.