Why did a Roy man build this UNBELIEVABLE ghost town in his own back yard? 'I was bored'


ROY, Wash. -- A few years ago Johnny Pierce -- who goes almost exclusively by the name Reddog -- decided he wanted a shed on his Roy property.

But Reddog didn't want any "ordinary shed," he said.

So he decided to build one in his field that was modeled after a run-down, old mining town storefront. Someplace unique, someplace unusual to store his tools and brighten up his field.

He got to work. Some called him creative for the idea. With nails in his teeth and a hammer in his hand, Reddog insists otherwise.

"I wasn't creative," Reddog says. "I was bored."

After the storefront was built -- complete with it's busted windows and spinning water wheel -- Reddog piled all his tools inside and sat back in his house.  But he couldn't sit still. A lover
of the Pacific Northwest, and an avid actor in frequent mountain men reenactments around the area, Reddog realized it wasn't long before he had again bartered for lumber and more tools with his equally eccentric and talented buddies.

Rather than let the wood pile-up, Reddog went back to the end of his property. He had decided to build another shed. Again in an old-timey style, this time more of a run-down barn.

Before he knew it, one-and-a half acres of his land was littered with small buildings.

"So I built a hothouse," Reddog said. "Then I built another. Right now I've go six buildings and a fort. One of them is covered by a little porch."

A veritable ghost town, complete with a running outhouse, creaky wood and the authenticity of anything you'd find in the Capitol Forrest 100 years ago.

Reddog says his dream is to build a working saloon. Each time he gathers enough lumber for a saloon, though, his girlfriend steps in his way. Perhaps she doesn't want all those beer taps... or more buildings at the moment.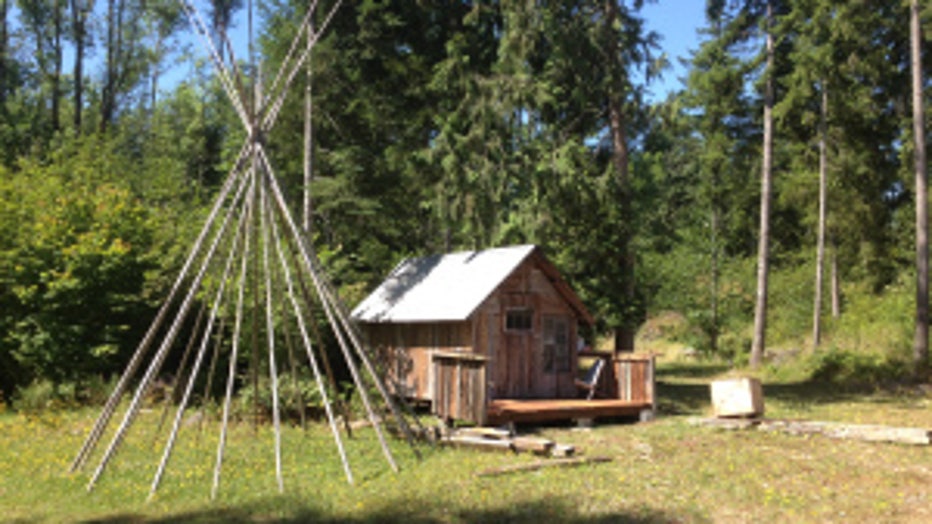 "If my girlfriend didn't stop me I'd have 30 of them," Reddog said.

Reddog had nothing special in mind for visitors. But soon private planes had flown overhead, and he had people knocking on his door. "Can we see the ghost town," they asked. This summer, he hosted a wedding and a Hawaiian Luau. If his girlfriend doesn't mind, he might even host some more, he said.

Reddog now invites anyone who wants to tour his creation -- or bored experiment -- to call his house at 360-832-6064 and set up an appointment. He's open to talks about weddings or events. He can't promise you he'll only have seven buildings, though.

He would like to have more.

"The pictures don't do these buildings justice," he says. "Come out and check it out."