Who runs Olympia? The fate of the 45th will decide
REDMOND, Wash. -- Two new faces in politics are introducing themselves, on television, on the web, and in person -- when so much of the political power in Washington state is in their hands.

At stake is the 45th Legislative District and control of the state Senate.  The district extends from Kirkland on the west, to Duvall on the east, and Sammamish on the south.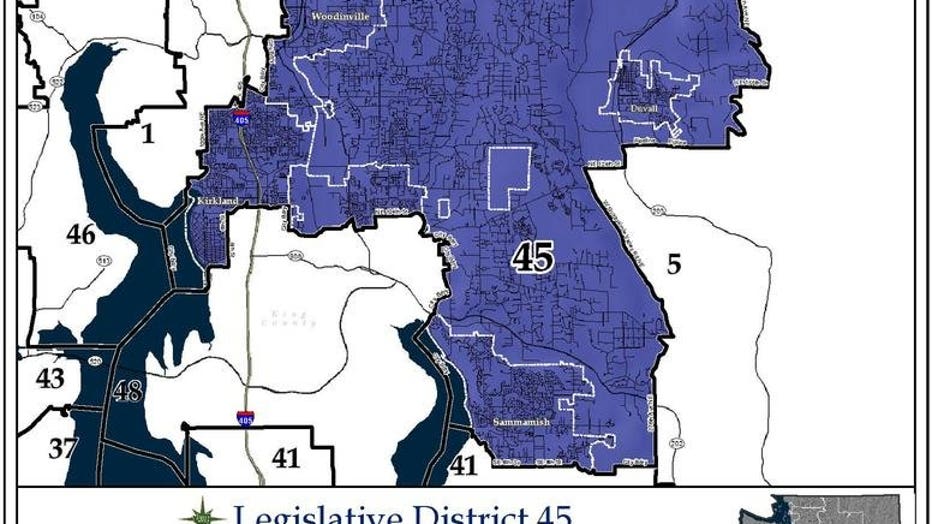 So who are Republican Jingoung Lee Eunglund and Democrat Manka Dhingra?

"We want leaders that are pragmatic. We want leaders that actually listen to people in their district," Englund said on a recent afternoon before hitting the sidewalk to knock on doors.

To her, this is a race about the paychecks people take home.

She opposes any plan by Seattle or others to push for a state income tax.

"Anytime that Seattle opens their mouth, right, they're always proposing a new tax," she said.

Her opponent, Dhingra, says instead, it is property taxes that are the pain. She wants to take pressure off homeowners and renters by making big companies chip in.

"We have to make sure that we are closing some of the over 900 corporate tax loopholes that we currently have in our tax code," Dhingra said.

Dhingra says the partisan imbalance in the state House and Senate is hurting kids. She says education funding became a pawn to play with schools caught in the middle.

"They see our House passing bipartisan bills. Actually governing. And these bills that have bipartisan support go to our Senate and die in committee," she said.

Washington can't keep pace with spending for schools. Since 2012 the state Supreme Court has demanded more funding for poor districts.

That hasn't been happening, as each budget in Olympia misses the mark.

Englund is skeptical that more money will really help -- and wants better quality and not just better budgets.

"The people in my district are very financially savvy. And they know that more money doesn't necessarily equal better outcomes," Englund said.

Both candidates want better outcomes to our region's opioid crisis. Dhingra says her history as a prosecutor and working with mental health nonprofits helps her see both sides of the fight.

She says she doesn't want a blanket ban on safe consumption sites, even if cities in her district don't want to host them.

"We need to get politics out of it. We need make sure that our public health is taking the lead on this issue. Really making sure that they're looking at data, looking at science, looking at best practices," Dhingra said.

Two different approaches to our state's gravest challenges -- and the face of Olympia changing with one vote.

Republican Dino Rossi has been the most recent occupant of the state Senate seat in the 45th Legislative District. He had been appointed to temporarily fill the post after the 2016 death of state Sen. Andy Hill. Rossi is running for Congress in 2018.