White House: Enroll in Obamacare, but not too fast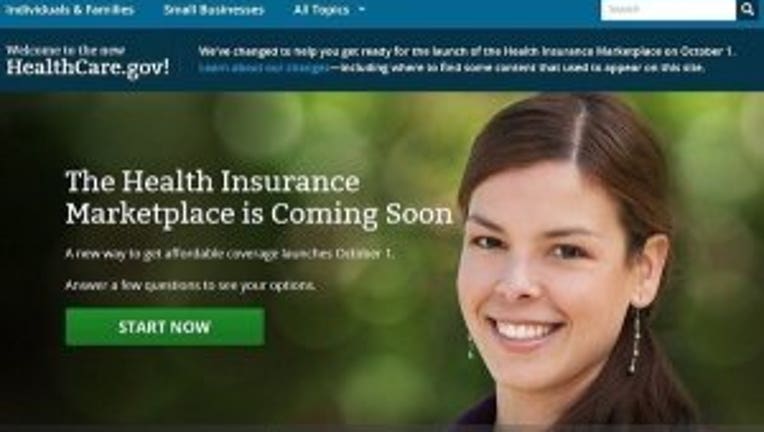 Washington (CNN) -- It's a welcome sign with a caveat.

President Barack Obama and Health Secretary Kathleen Sebelius are urging people to try again on the problem-plagued Obamacare website, insisting it will work better by Saturday's self-imposed deadline to improve its performance from last month's botched launch.

Meanwhile, the administration has been telling its allies to hold off for now on any campaigns to encourage people to sign up right away so that HealthCare.gov doesn't get overwhelmed once again this weekend.

Officials fear another huge surge in volume that the site can't handle, which is what occurred around the October 1 launch of new insurance exchanges under Obama's signature health care reforms.

In the latest problem with HealthCare.gov disclosed Wednesday, the website will be unable to enroll small businesses online for another year, according to a Health and Human Services official.

Small businesses can enroll in other ways, but problems with HealthCare.gov have prevented their online enrollment so far.

"For 2014, small employers will use 'direct enrollment' rather than HealthCare.gov" in the 36 states where the federal government runs the new insurance exchanges under Obamacare, the HHS official said in a statement.

That means small businesses interested in buying insurance in the program, known as the SHOP Marketplace, will use an "insurer, agent or broker," the official said, adding that "this allows small employers to sign up for coverage through offline enrollment" while officials work to get the online component for the SHOP Markeptlace fully functioning.

The Affordable Care Act, known as Obamacare, doesn't require companies with fewer than 50 employees to buy insurance for workers. If they do, they may qualify for subsidies to reduce their costs.

Republican opponents of Obamacare pounced on the news, with Rep. Fred Upton of Michigan saying it showed the Affordable Care Act "was not ready for prime time."

"This law remains a tremendous failure that still, two months into open enrollment, is not even 80% operational," Upton, the chairman of the House Energy and Commerce Committee, said in a statement.

Wednesday's development came as the administration prepared for a potential surge in online enrollment in response to its pledge to have the HealthCare.gov website functioning smoothly for most users by the end of November.

According to a White House official, the administration suggested at a Monday meeting with allies that they not drive traffic to the website in the first week of December, following the November 30 deadline it set for website improvements.

The administration wants to see how the website does before its supporters launch campaign efforts to boost enrollment, the official said.

Recurring breakdowns, error messages and delays botched the federal web portal rollout, opening the reform effort to new and fierce Republican criticism while raising questions about the administration's ability to manage the health insurance overhaul.

The GOP opposition targets the entire 2010 Affordable Care Act, not just the website woes, as the ultimate example of big government run amok.

HealthCare.gov was originally planned to handle 50,000 concurrent users, and will reach that capacity by Saturday, the White House official said.

However, big spikes in traffic -- such as the 200,000 who tried to get on at the same time on October 1 -- would cause users to go into a queue to receive an e-mail advising them when to return, the official said.

In a conference call Tuesday with state and local officials, Sebelius said the website improvements targeted for the end of November aren't "a magic 'turn on the on switch'" to fix HealthCare.gov, but a continual process in which "the experience is vastly improved each and every day."

"We are definitely on track to have a significantly different user experience by the end of this month -- that was our commitment -- than people experienced on October 1," Sebelius said.

"We've added hardware, we've added software; we're continuing to work on the parts of the website that were too confusing to people," she continued, urging the officials "to not hesitate to recommend that people go to HealthCare.gov and get signed up because that experience is currently working much better and it will continue to work much better."

Obama also urged people to go to the website, as he made remarks on the economy in California.

Enrollment figures for the first month after the opening of the new health insurance exchanges under Obamacare were much lower than initially expected. Now some states have reported stronger numbers, and Sebelius said Tuesday that more people were signing up daily.

She declined to provide any specifics, even when asked by a local official on the call for a demographic breakdown on who was signing up. Such details weren't yet available, Sebelius said.

According to a CNN count based on available figures, just a little more than 200,000 people have signed up for new private health insurance under Obamacare -- either through the national system or networks set up in 14 states and the District of Columbia.

The enrollment period runs until March 31 and officials have said the target for the first year was seven million people. To ensure they have coverage starting on January 1, consumers must sign up by December 23, the administration recently announced.

In addition, more than 370,000 have signed up for Medicaid under state programs expanded through the health care reforms, the CNN count shows.