When will this smoke, haze go away? Air quality in region the worst in nation
SEATTLE -- The air quality in the Puget Sound area is now at unhealthy levels with smoke hanging over us from wildfires in British Columbia.

Puget Sound Clean Air Agency says they have declared the air quality unhealthy for sensitive groups like pregnant women and people who already have poor heart or lung health.




Snapping pictures at Seattle's iconic overlook at Kerry Park, photographer friends Lori Rowland and Adele Buttollph, who are visiting from Oregon, say they're used to summertime smoke in the air.

"The smoke is a common occurrence for us," said Rowland.

Used to wildfires creating hazy, smoky conditions, Buttollph says she does get concerned about the health impacts, but there isn't much she can do about it.

"If it's really bad, it can hurt your lungs and make your skin feel dirty, and we try to stay in and not get exposed to it," said Buttollph.

The Washington Department of Ecology says they've never seen air quality this bad in Washington.

"We've never seen numbers like this across the board," said Mike Ragan, air monitoring coordinator for the department.

A national map showing the Puget Sound area lit up in red dots indicates the area has the worst air quality in the nation right now.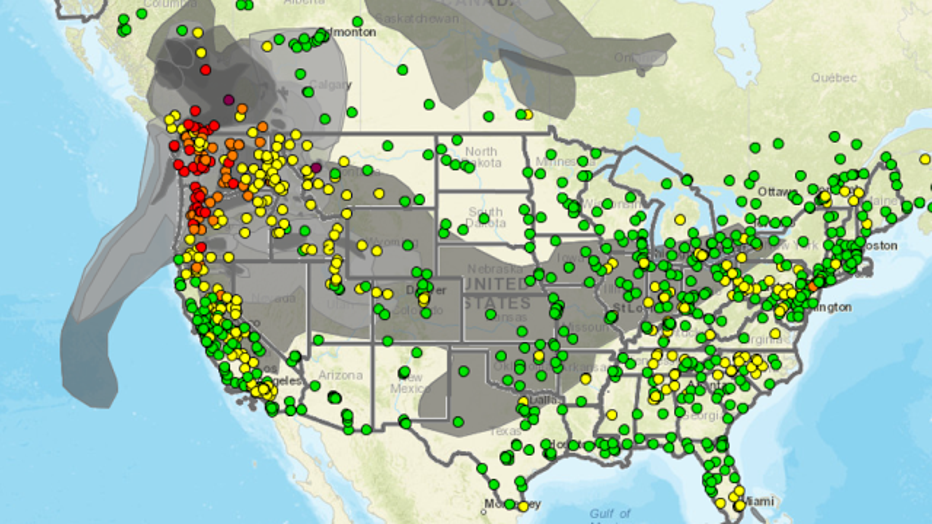 Add in the heat and it builds layers of stress, especially for people with poor heart and lung health.

"The heat, it's something that's been shown to exacerbate both respiratory and cardiovascular health conditions. So that, in combination with the pollution, is sort of a double whammy," said University of Washington Medicine Dr. Sverre Vedal, who specializes in lung conditions.

Seattleite Michelel Bullock, who is an avid hiker, says these conditions make her think twice before hitting the trails.

"The hikes that I do, you're breathing heavily ... and I don't necessarily want to breath the smoky air and I don't necessarily want to exert myself."

Air quality scientist Eric Saganic with the Puget Sound Air Quality Agency says "I've worked at the agency for 12 years, I've never seen air pollution like this in the summertime."

Saganic says the air is bad right now, but it's not a long-term concern.

"A lot of health studies showing over the course of years breathing air like this can be a problem," said Saganic.

He says even though Seattle's air quality right now is worse than Beijing, China or cities in India, Saganic says people there breathe that air on a daily basis year after year.

Saganic says the poor air quality in Seattle is temporary.

"It's episodic for us," agreed Bullock, who hopes the air will clear up soon.

The silver lining for these photographers snapping shots through hazy skies, "Good sunsets, orange sunsets and lots of good color," said Buttollph.

The Department of Public Health says these conditions may be one of the few times they are encouraging people not to exercise outdoors.

Q13 News Meteorologist Tim Joyce said we might catch a break on Saturday. He said a marine push off the Pacific on Saturday may at least cut the smoky haze level in half from what it was earlier in the week.