When and where fireworks are legal in Western Washington


OLYMPIA, Wash. -- Though the weather might not show it, summer is officially about to begin.

That means booms and bangs can be heard from across the neighborhood. Dogs look around warily. It's firework season.

For many in rural parts of Washington, backyard fireworks are an integral part of July 4. But at least 78 cities in the state restrict or outright ban fireworks. Even where no specific ban is in place, Washington has  policies as to when and how fireworks are purchased and discharged.

State Fireworks Law

Below is a chart from the State Fire Marshal's Office outlining restrictions for fireworks sales and discharge periods.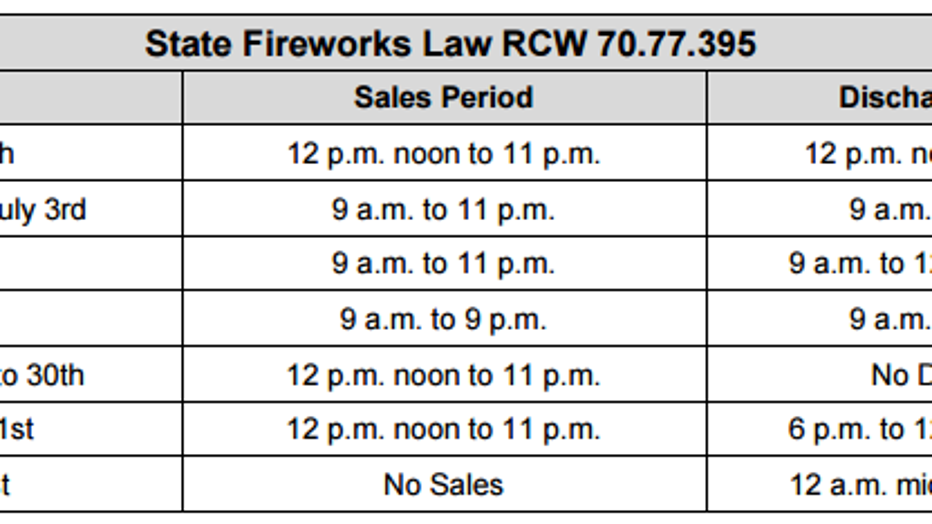 Cities or counties with individual restrictions

We have a partial list of cities and counties that restrict fireworks. We've limited our list to discharge restrictions, but many areas also restrict sales. For a complete list, visit the fire marshal's page. Contact your local police or fire department for exact rules and ordinances.

King County
Snohomish County
Pierce County
Skagit County
Thurston County

If you do decide to shoot off your own fireworks, the Washington State Patrol offers a full list of fireworks safety tips. Basic instructions include; don't shoot fireworks at others, don't lean over fireworks when lighting and always read the instructions before discharge.

Remember fireworks like firecrackers, bottle rockets and missiles are illegal outside of local tribal reservations.