What's next for starving orca J50? 'If we do nothing, she will die'


SAN JUAN ISLANDS, Wash. -- Live salmon feeding and dart injections are two medication methods that had never before been attempted in the wild.

But this month, we've seen U.S. and Canadian governments go above and beyond for one killer whale.

Scarlet, or J50, is starving and might be sick.

"She is in a condition where if we do nothing, she will die," said Michael Weiss of Center for Whale Research.

Scarlet is only 3 years old, but researchers fear she won't make it to her fourth birthday this December. Her birth in 2014 had invigorated the killer whale community.

"I love all the whales, but she's special to everyone," Weiss said. "She kicked off the baby boom which gave us all so much hope."

That hope was that the endangered southern resident population would grow, but of the 11 babies born in the 2-year boom, only five are still alive. There's a good chance they could lose Scarlet, too.




"She looks like a 1- or 2-year-old calf, even though she's a few years older than that," said Taylor Shedd of Soundwatch. "She comes up to the surface very slowly, you can't really see much of her."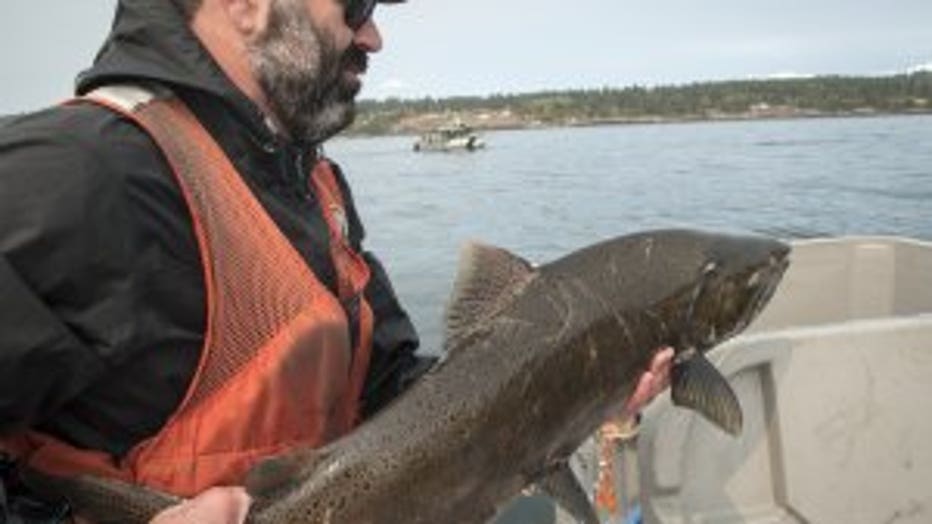 Edward Eleazer assists with fish care on the Lummi Enforcement boat (Photo: Katy Foster)


It's a far cry from her usual self.

"She's a little rambunctious," Shedd said. "She's always been a super playful calf. There's been multiple accounts of her breaching dozens of times over and over again."

She's a whale that researcher Ken Balcomb said has been easy to identify since day one. That's because of her significant scarring.

"The baby had tooth rakes all over its dorsal side and a fin and I surmise that the baby required some sort of assistance in birth," Balcomb said. "Another whale bit a hold of it and pulled it from the womb."

His assessment is widely accepted. Many believe she was a breech baby and her mom, J16, needed help from other whales to give birth.

"Scarlet has had one of the toughest lives in such a short amount of time," Weiss said.

She has always been small but now instead of growing, researchers say she's lost about a third of her body weight. It's a body condition that no wild killer whale has come back from.

Still, Weiss said, she's a fighter.

"Any other whale in that condition, I'd almost be certain would not make it," he said. "And she doesn't have much of a chance but if any whale is going to make it through that, I think it would be her."




For her, the U.S. government is pulling out all the stops.

"She's an important part of this population as a young female," said Lynne Barre, NOAA Fisheries recovery coordinator for the southern resident killer whales. "We're hopeful that these efforts will help support her growth and additional reproduction in the population in the future. Each female that's of reproductive age is really critical for this population to grow into the future."

The southern residents are down to just 75 whales, their lowest population count in more than three decades.

Bottom line: Scientists say they aren't getting enough food. It has led to stressed pregnancies and dead calves.

"We've been slowly chipping away at the block and haven't really gotten anywhere, so now taking this big effort to see if we can do something," Shedd said.

Many believe the unprecedented effort to save her is propelled by public attention. This month, the world was gripped with the image of a mother orca mourning the loss of her newborn calf by carrying the body on her head for 17 days. All the while, Scarlet was wasting away.

"I think with the eyes of the world on you and a sick baby in the water, there's nothing else to do politically ... than pull out all the stops and make a show of trying to help," Weiss said.

It is more than just a show. The methods might not work but the manpower suggests both U.S. and Canadian governments are committed to saving Scarlet.

"We definitely are doing everything we can to respond to J50's condition," Barre said. "There's so many unknowns and uncertainties that we really have to take it step by step."

With the public behind them, there's no better time to take these risks.

"This is not the first time we've watched a little whale, or a female, waste away over the course of a summer," Weiss said. "But I think it is the first time that public opinion has been so strong to force an intervention of this magnitude."

The more cautious researchers are hoping that what they call "Band-Aid solutions" don't distract from the bigger picture.

The bigger picture is that while this one orca calf is starving, they all need more food and a healthier ecosystem.

But Scarlet's need is immediate, which is where this emergency plan comes in.

As of the latest sightings, Scarlet is off the west coast of Vancouver Island, out of reach for these researchers. They are on standby waiting for her to travel inland so they can check her condition and assess whether she has gotten better or worse since her first injection.

Also, from fecal samples they tested, they think she might be suffering from a parasite. They are currently weighing delivering more medicine through another injection or through live salmon, even though she didn't eat the trial salmon the first time.

NOAA tells Q13 News they are keeping the door open to all possibilities to save her and that the whales' behavior and condition will dictate the response.