Western Washington had wild weather in 2017
SEATTLE -- If it seemed like Seattle and Western Washington broke just about every weather record this year. Then you're right.

Let's start from the beginning.

Wettest wet season

On March 14, the region reached its normal yearly total rainfall, which wasn't a surprise to any of us who lived through the first half of the year.

At the end of the rainy season, Western Washington was officially given the title: all-time wettest water year on record, according to the National Weather Service, who began taking such records in 1895.

Seattle logged 44.67 inches of rain from October 1, 2016 to April 2017.

Think that's a lot? Quillayute, Washington, which is on the coast, logged nearly 10 feet of rain during that same timeframe.




Also, not surprising. Western Washington had the most 1 inch rainfall days ever.

Driest July/August ever

Remember our summer. It was sunny and dry. In July, no measurable rain was detected at Sea-Tac Airport, where the National Weather Service has their rain gauge.

That dry streak continued until August 8, setting a record for most consecutive days without rain. Seattle officially went 52 days without measurable rain breaking a record set in 1951.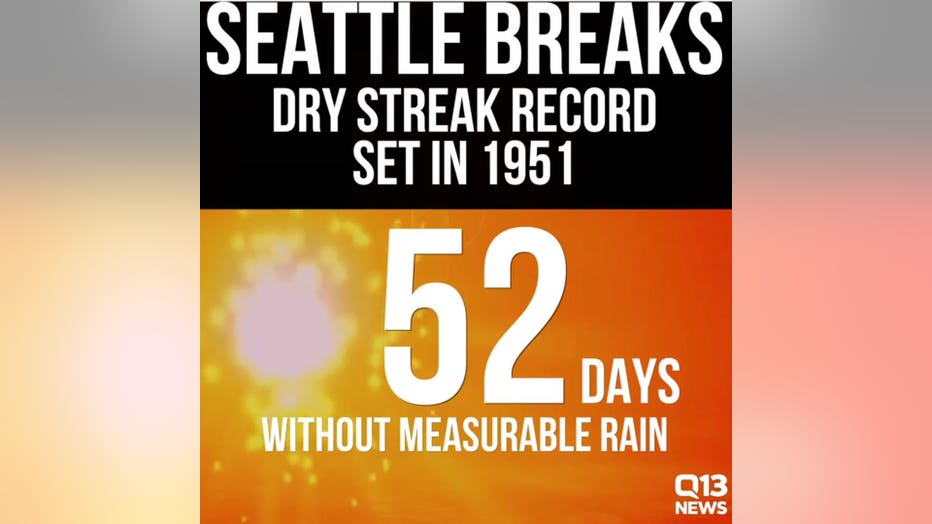 Hottest summer ever

Oh yeah, remember how hot this summer got? According to the National Weather Service, the stretch from June 21 (the first day of summer) to September 21 (the last full day of summer) tied for the hottest summer ever.

The Puget Sound region averaged high temperature of 78.6 degrees. That's about 4 degrees warmer than average.

The summer of 1967 also averaged high temperature of 78.6 degrees, according to the weather service.

Fall was considerably toasty too.  86 degrees was recorded at Sea-Tac Airport on September 28, making it the hottest September 28 since the National Weather Service began keeping records. Bothell and Federal Way were even hotter at 92 degrees.

Most smoke ever recorded 

Smoke from wildfires burning in British Columbia, Montana, Idaho, and Washington made our sky's hazy this summer. Western Washington experience poor air quality for at least eight days in September. Many of us woke up to ash on our cars bringing back memories of the Mount St. Helens eruption.

Wildfires also forced the closure and evacuation of Crystal Mountain.


Snow on Christmas Eve and Christmas Day

This year's "white Christmas" was also record-setting.

The last time we had an official white Christmas was in 2008. The National Weather Service has an actual definition of a white Christmas. It's:

"1 inch of snow on the ground on Christmas morning."

This year was the first time ever that Puget Sound received an inch of snowfall on Christmas Eve and an inch of snowfall on Christmas Day.




Woo!! What a wild weather year! Our current winter is expected to be cooler and wetter than normal, but not record-breaking. That also means our summer should be warmer and dryer.